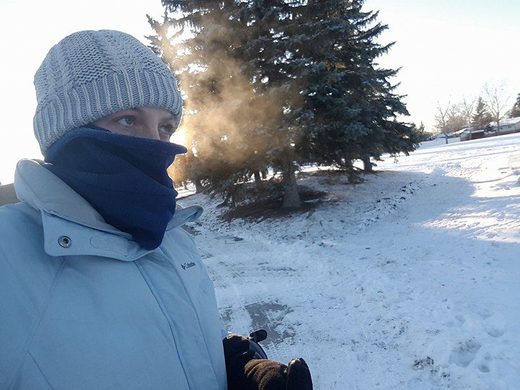 Dangerous, record-breaking cold
has settled into the Prairies, causing water pipes to burst and cars to become frozen in place. Meanwhile, more than 31,000 weather-related calls for roadside assistance have been logged over the past few days.
Keep reading for the impact of the storm so far, followed a look at the Prairies, in photos.
Cars frozen in place after water pipe bursts
Several cars were stuck in an Alberta parking lot Wednesday as windchills in the -40 range caused a water pipe to burst, creating a thick layer of ice on the ground.
Speaking with Global News, Pete the Plumber said windchill is one of the driving weather-factors behind burst water pipes.
"Windchill mixed with cold freezes those pipes, and boom: You're in trouble," he said.
Record-breaking cold
Widespread temperatures well into the -40s (before windchill) have been reported across the Prairies. In Edmonton, it was cold enough to break a record.
Tuesday was the coldest day in Edmonton in nearly a decade with Edmonton International Airport hitting a low of -41.2°C.
Tuesday's temperatures summed up in one tweet
A spike in calls for roadside assistance, emergency services
Since Sunday, the Alberta Motor Association has received more than
31,000 calls for roadside assistance province-wide
, citing dead batteries as one of the leading causes.
The demand has been so large that additional dispatchers were called in to help, the CBC reports.
Edmonton EMS has noted
a spike in cold-related emergency calls
with workers responding to seven cold exposure calls between Monday morning and Tuesday afternoon, the CBC reports.
That's more than three times the usual number of calls. In response to the conditions, the city's LRT is remaining open around the clock to provide shelter from the cold.
Photos: Extreme cold hits the Prairies