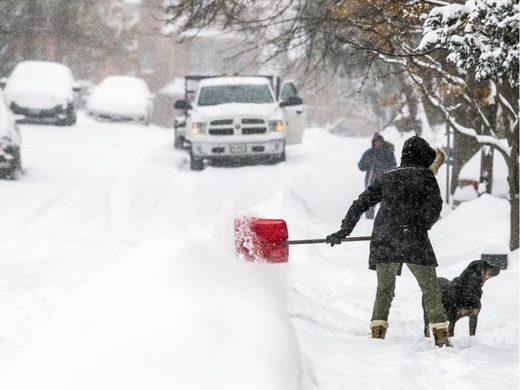 The winter storm that, as of Sunday afternoon, is still passing through the region, was the coldest & snowiest Ottawa has seen since before the dawn of the 20th century.
Rolf Campbell, who tweets @YOW_Weather, observed that the storm - with a high reaching minus 18 degrees and two-day snow accumulation in surplus of 25 centimetres - was rivaled only by Feb. 8, 1895, when the max temperature was 17.8 degrees and accumulation exceeded 45 centimetres.
(There was also a snowstorm on Jan. 18, 1934 where it was minus 18.3 degrees, but the accumulation was
only
15.2 centimetres.)
It is unusual for major snowfalls to coincide with intense cold
, as CBC climatologist Ian Black tweeted.
He added that in 30 years of covering weather,
he has never seen an Extreme Cold Warning and a Winter Storm Warning at the same time
, as Environment Canada issued the two simultaneously Saturday.
That's not the only record broken - Jan. 20, 2019 is now the number one snowiest Jan. 20 since records began in 1873, with 21 centimetres of snowfall by 1 p.m.