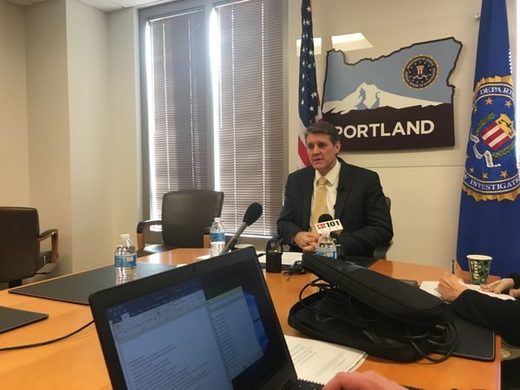 The FBI has not designated the Proud Boys, whose members routinely appear at right-wing protests in downtown Portland, as an extremist group, Oregon's top FBI agent said Tuesday.
The FBI never intended to do so when it briefed Clark County law enforcement leaders recently about regional threats
, Special Agent in Charge Renn Cannon said during a wide-ranging meeting with media at the bureau's Portland headquarters.
His comments directly counter
an internal Clark County Sheriff's Office memo that suggested otherwise and drew national attention.
In the FBI's slide show in Clark County, agents talked about the Proud Boys, white supremacists, militia groups and anarchists, Cannon said.
Started in 2016 by conservative writer Gavin McInnes, the Proud Boys have billed themselves as "pro-Western fraternal organization" and
have vigorously fought accusations by critics that members are associated with white nationalists
.
Cannon said in relation to the Proud Boys, the FBI "tried to characterize the potential threat from individuals within that group.'' The bureau doesn't designate groups but does investigate violent conspiracies, he said.
"We do not intend and did not intend to designate the group as extremist,''
he said.
But the FBI agents at the Clark County session also referred sheriff's officials and other law enforcement officers to websites of other agencies for more information,
including the Southern Poverty Law Center, which does classify the Proud Boys as a hate group
espousing white nationalist views.
"I can see where Clark County representatives came to that conclusion. That was not our intention. That's not what we do,'' Cannon said. "We will not open a case if someone belongs to antifa or even the Proud Boys. There has to be a credible allegation or a threat of violence before someone opens a case.''
Cannon's remarks came as he discussed the work of the agency's Joint Terrorism Task Force. The FBI once again is pushing to keep Portland police involved in the multi-agency investigative force amid the recent election of civil rights activist Jo Ann Hardesty to the Portland City Council, who has been vocal in her opposition to it.
Hardesty is likely to be the swing vote on the five-member council. The city's move to withdraw from the task force also would come as the city is struggling to respond to violent brawls that erupt downtown between feuding protesters, including Proud Boy members and black-clad demonstrators associated with the anti-fascist movement.
The task force has done 278 threat assessments so far this year, up from earlier years that ranged around 200, according to the FBI. It has examined threats of shootings at schools, explosives and bomb threats, crimes aboard aircrafts or threats against synagogues, mosques or churches.
Only a small fraction of those assessments result in full investigations
, he said.