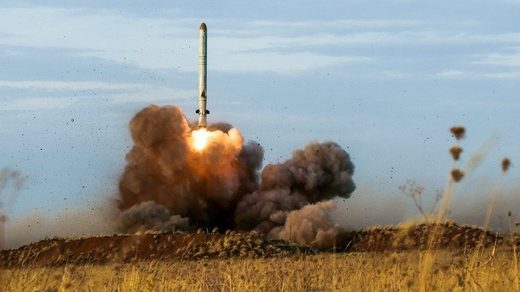 A trio of top Senators criticized Donald Trump's decision to walk away from the 1987 INF treaty, saying the move, which lacks "strategic forethought," would spell the end of other arms control treaties.
Trump's decision to withdraw from the milestone Intermediate-Range Nuclear Forces Treaty (INF) came out of the blue for American lawmakers - senators Bob Menendez, Jack Reed, and Mark Warner, who
wrote
an open letter to the US president.
There were multiple opportunities to explain the rationale behind the pullout, but it turns out that the administration "provided no indication that a decision to withdraw was even imminent," the letter reads.
Three Democratic senators on Monday appealed to President Donald Trump to confer with Congress before formally withdrawing from the Intermediate-Range Nuclear Forces Treaty.
Sens. Bob Menendez (N.J), Jack Reed (R.I.), and Mark Warner (Va.) communicated their concerns in
a letter first reported by Politico
.
In October, Trump announced the United States would cease complying with the Cold War-era treaty because Russia had tested and deployed a missile within the range prohibited by the pact: 500 kilometers to 5,550 kilometers, or about 330 to 3,330 miles.
"Moving forward, before taking steps to withdraw or suspend participation in the INF treaty, we urge you and your administration to engage with Congress on the implications of this step for strategic stability and our relations with European and Asian allies," the lawmakers wrote.
The Barack Obama administration in 2014 accused Russia of violating the INF Treaty earlier in the decade. The Trump administration eventually expounded on the claim, citing classified evidence of non-compliant behavior dating to 2008. The Trump White House on Friday offered its
lengthiest explanation
yet of Russia's alleged INF violations
,
saying the
Kremlin by 2015 had completed
a "comprehensive flight test program" of a missile designed to carry conventional or nuclear warheads
.
Still, the Trump administration has yet to formally withdraw from the INF Treaty, or notify U.S. allies that it will. A State Department spokesperson told reporters on a flight to Belgium on Monday the U.S. will confer more with its allies about withdrawal.
"Right now our focus is on sharing what we have with allies, making sure ... we're on the same page with a clear way forward,"
the spokesperson told reporters
in a question-and-answer session following a briefing about Secretary of State Mike Pompeo's scheduled trip to NATO headquarters in Brussels. "And once we've had those conversations with allies, we'll make a decision and communicate those decisions in concert with our allies."