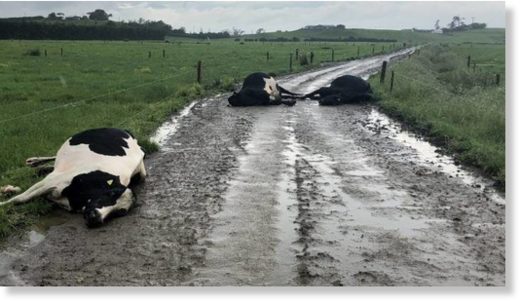 Faced with pelting rain, Clem Newby hung back from following his herd out of the milking shed for a few minutes.
It's a move that might just have saved his life.

Five hundred metres down the farm race a lightning bolt from a vengeful sky north of Hamilton struck and killed four cows on their way back to the paddock on Tuesday morning

"It was a hell of a bang," Newby said.
"The lightning was just horrific and it really frightened myself. I had never heard anything like it in my life and it really shook the cowshed."
Newby, along with wife Karen and worker Jim Miles had just finished morning milking on their 150 hectare farm at Te Kowhai when the storm struck their farm at around 9.15am.
The fatal strike gave Karen such a fright that she grabbed her husband, who was in the milking shed pit.
"Clem is always behind those cows to lock them away but because it was raining, he had come back to the shed," she said.
From the cow shed, Clem said he could see some objects lying on the race. It was at that moment he suspected the bolt had struck the cows.
"I probably wasn't surprised - I hate to say it - because of what we heard in the cow shed. I really felt we would be lucky to escape something," he said.
The rest of their 450-cow herd, including their young stock came through unscathed.
"You just think, that poor cow. One minute they are there, then they laid out.
​
"Fifty-four years farming and I have never had cows die like this," he said.
Waikato and Auckland took a battering from the storm. By 9.30 in Auckland, more than 860 lightning strikes had struck the region, causing power outages, flight cancellations, flooding and school closures and injured a worker at a south Auckland business.
The day before, teachers at a Hamilton school were left rattled lightning after it struck rugby goalposts at Hamilton Junior High School before travelling along a set of classroom buildings at the adjacent Hamilton North School.
The four cows were all friesian-crossed adult milking cows weighing 500-600kg, and included one of the Newby's top producers.
They were worth $1800-$2000 each and the Newbys are checking to see if their insurance policy covered a bolt from the blue.
It was a timely reminder to remember how dangerous a lightning storm can be.
"If you're on a bike, or near a gate or electric fences, you're in big trouble," Karen said.
"It's quite frightening to think that if someone's outside and doesn't know the consequences what can happen, or what to do in the event of thunder - what they should be doing."
Clem said if it had struck the cowshed when they were milking, they could have lost the whole herd.
He said people were probably unaware how dangerous they can be.
"Sometimes we're exposed out on the paddock and I'll get down because I know you're not meant to stand up."
Source: Waikato Times