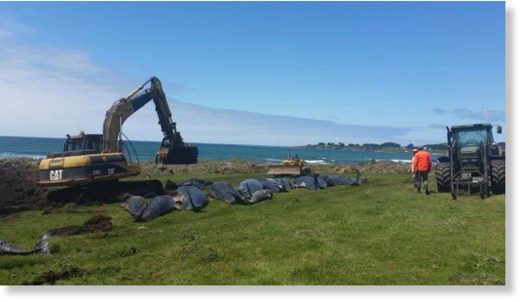 More than 50 pilot whales have died after beaching in New Zealand's Chatham Islands, only days after a massive stranding in the country's south.
As many as 90 of the stranding-prone species came ashore near the township of Owenga overnight, with about 40 refloating themselves, New Zealand's Department of Conservation said on Friday.

Only one of 51 remaining whales was alive by the time conservation staff arrived in the morning.
"There was no likelihood of being able to successfully save the remaining whale," said DOC's Chatham Islands operations manager, Dave Carlton.
"Sadly, the decision was made to euthanise. It was the most humane thing to do. This is always an awful decision to have to make."
The sparsely populated Chatham Islands are an archipelago 800 kilometres east New Zealand's mainland that are considered part of the country.
The mass stranding comes after 145 pilot whales died on a remote beach on Stewart Island, New Zealand's southern-most landmass over the weekend.

In a third beaching, 10 pygmy killer whales died in the country's northern most region, Northland, on Sunday.
Pilot whales have a reputation for coming ashore, thought to be partly due to their preference for steep landforms and sloping underwater areas, which may interfere with their sonar.
Early last year, more than 300 of the animals died and 100 more were beached at the top of New Zealand's South Island, in what was one of the country's worst strandings.
New Zealand authorities deal with about 85 whale strandings each year, although most are small.
In Australia, twenty-seven pilot whales this week stranded themselves at the remote Croajingolong National Park in Victoria's East Gippsland, where a dead humpback whale, separate to the pod, also washed ashore.
Source: AUSTRALIAN ASSOCIATED PRESS