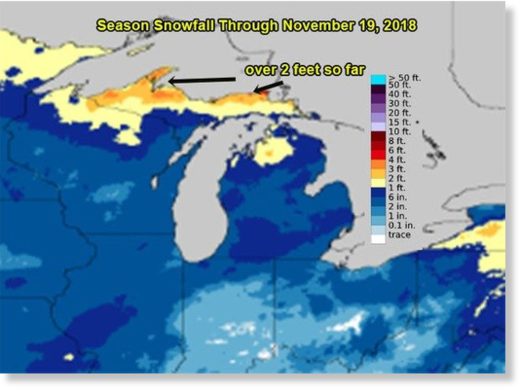 A few weather systems with Michigan on the cold side of the storms and some lake effect snow have made
most of Michigan have above normal snowfall so far in the early part of this cold season.
The eastern Upper Peninsula has the most deviation from normal snowfall amounts.
Sault Ste. Marie has already shoveled 26.7 inches of snow. This is 17.7 inches more than normal to this date.
Marquette is on the fast track to 100 inches of snow,
with 34 inches of snow already
falling in this early part of the cold season. Marquette is 15 inches above snowfall normal today.
Here's a rundown of how much snow has fallen as of November 19, 2018 and the departure from normal.
Marquette 34.0" +15.4"
Sault Ste. Marie 26.7" +17.7"
Kalamazoo 10.5" +7.6"
Ann Arbor 9.5" +7.0"
Grand Rapids 9.0" +5.2"
Alpena 8.3" +4.4"
Saginaw/Bay City 7.7" +5.8
Flint 6.1" 4.8"
Lansing 5.2" +3.3"
Detroit 5.0" +4.4"
Traverse City 4.0" -0.8 (Official amount is suspect- Much of area has over 8.0")
Houghton Lake 3.5" -1.2"
Jackson 3.5" +1.7"
There is a warm-up for a few days from Friday to Sunday. Then it looks like rain changing to snow Monday or Tuesday, with some accumulation.
So the snow will continue to stack up across Michigan. And if you are thinking your location has had a lot of snow compared to normal, you are correct.