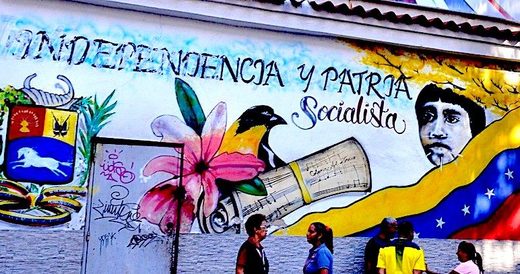 US President Donald Trump further fueled speculation his administration was pushing for regime change in Venezuela, echoing calls from his UN envoy Nikki Haley and Vice President Mike Pence to that effect.
"
Venezuela is a mess,"
Trump said on Friday.
"The place needs to be cleaned up, and people need to be taken care of."
The comment came during a photo-op at the White House with the President of Chile Sebastian Piñera, who is visiting Washington.
Shortly before that, Pence retweeted a photo of Haley addressing a gathering of Venezuelan dissidents in New York on Thursday through a megaphone.
"We'll continue to hold the regime accountable until democracy is restored,"
the vice-president wrote.
"We are going to fight for Venezuela and we are going to continue doing it until Maduro is gone!" Haley had shouted to the crowd, calling for an end to President Nicolas Maduro's rule. "We need your voices to be loud, and I will tell you, the US voice is going to be loud. Socialism and corruption have taken freedom away from the people of Venezuela. Proud to join these great people protesting the Maduro dictatorship," she said.
Trump blasted Maduro's government in his speech to the UN General Assembly on Tuesday, accusing the
"
socialist regime" of inflicting "anguish" upon the people that caused over two million to flee the country.
"It's a regime that frankly could be toppled very quickly by the military, if the [Venezuelan] military decides to do that," he told reporters afterward.