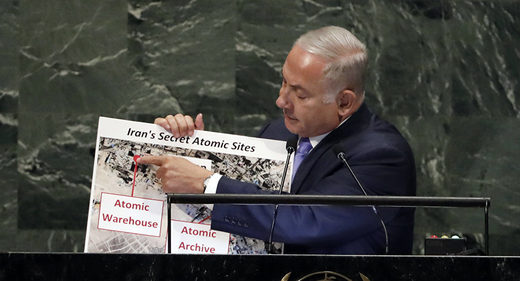 Tehran has dismissed Netanyahu's remarks, which he made during his speech at the UN General Assembly Thursday. In his speech, the Israeli prime minister claimed that Iran had a secret facility in Tehran, which it used to store large amounts of equipment and material for a secret nuclear weapons program.
Iranian Foreign Minister Mohammad Javad Zarif has slammed Netanyahu's claims, calling them "an arts and crafts show."
"Israel is only regime in our region with a secret and undeclared nuclear weapons program -
including an *actual atomic arsenal*
," he wrote on Twitter.
Iranian Foreign Ministry spokesman Bahram Qassemi has also commented on the allegations.
"The world will only laugh loudly at this type of false, meaningless and unnecessary speech," he said.
On Thursday, Israeli Prime Minister Benjamin Netanyahu claimed during his address at the UN General Assembly that Israel had discovered Iran's second secret atomic warehouse used to store nuclear-related material. According to him, Iranian officials were cleaning up the warehouse, which contained up to 300 tonnes of material.
The Israeli prime minister said he had shared the information with the International Atomic Energy Agency (IAEA) and called on the watchdog to investigate the findings.
In April, Netanyahu claimed that Israel had captured the so-called Atomic Archive of Iran, allegedly proving that Tehran preserved its nuclear weapons program. The allegations have repeatedly denied by the Iranian authorities.