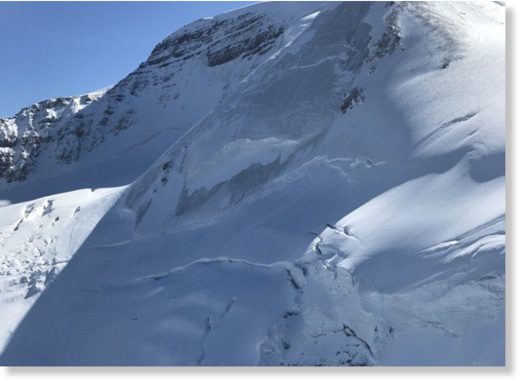 An early season avalanche
swept away two climbers on Mount Athabasca in Jasper National Park last week,
prompting Parks Canada to issue an early season avalanche warning.
The two climbers from Jasper were roped together on the Silverhorn route when they triggered a 2.5 size avalanche around 10:30 a.m. on Wednesday (Sept. 19). The female leader was partially buried, and her male climbing partner helped dig her out.
The avalanche dragged them 600 metres down the side of the mountain before they came to a stop below the ramp of the north glacier. They were flown by helicopter to the Jasper hospital with serious, but non-life threatening injuries.
"The leader described the climbing as 'styrofoam like' snow," according to a report by the Association of Canadian Mountain Guides (ACMG).
"The group was 200 metres from the top of the route when they heard and felt a whumph underfoot. Both members were swept away immediately."
Two ACMG guides happened to be nearby and were able to help until Parks Canada's rescuers arrived.
The female lead climber was partially buried, with her head and one arm exposed, while the other climber remained on the surface.
"They both had a shovel, probe and beacon and were used to excavate the leader," stated the ACMG report.
Parks Canada issued an early season avalanche warning on Saturday (Sept. 22). There have been several natural avalanche reports, up to 2.5 in size, when the snow first came in.
A size 2 avalanche is classified as big enough to bury, injure or kill a person, while a size 3 could bury a car, destroy a small building or break trees.
Visitor safety specialists say many high alpine areas now have enough snow depth -

in some locations up to one metre

- to produce avalanches, noting it feels more like early November than September.
Steve Holeczi, a visitor safety specialist in Banff National Park, said climbers and early season skiers should carefully evaluate steep terrain features that are holding snow for any slab development or deep weaknesses.
"It has been a snowy September and I don't have exact figures, but it certainly seems much more than usual for September," he said.
"I think the big message is to switch your thinking to winter. Even with those nice, beautiful fall days, when you get up high there's going to be more sow than expected."
Avalanche safety gear, such as beacons, shovels and probes, is also a must.
"Start thinking about avalanche gear because it's probably been sitting on the shelf all summer long," said Holeczi.
"Check that it's in proper working order and remember how to use it."