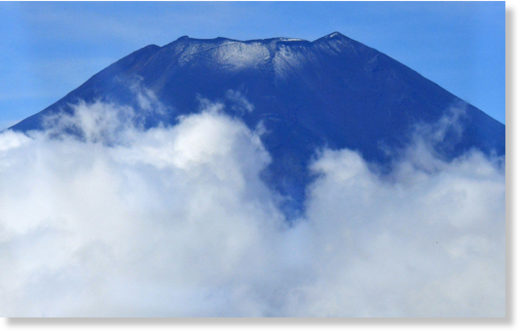 The first snowcap of the season is seen on Mount Fuji, Japan's highest peak at 3,776 meters, on Sept. 26, 2018.
The snow was announced by the Kofu Local Meteorological Office in Kofu, Yamanashi Prefecture.
This year's first snowcap came four days earlier than average,
and 27 days earlier than last year.
Local officials at the office observed the snow-topped mountain during an about 20-minute break in the cloud cover from 1:30 p.m. on Sept. 26. At 1 p.m. that day, the temperature at the top of the mountain was 2.2 degrees Celsius,
after dropping to minus 5.1 degrees at 11 p.m. the previous night.
(Japanese original by Ryotaro Ikawa, Kofu Bureau)