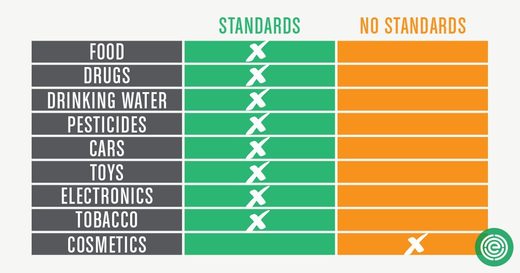 It's been 80 years since Congress last voted to regulate cosmetics.
And a lot has changed since June 25, 1938 - the day Congress passed the Food, Drug and Cosmetics Act of 1938. These days cosmetics are a
$60 billion-a-year business
, and the average woman
uses
12 products with 168 different ingredients every day.
The 1938 law only
prohibited
the sale of cosmetics with any "poisonous or deleterious substance," or any "filthy, putrid, or decomposed substance," so the Food and Drug Administration has so far only banned nine cosmetics ingredients for safety reasons. Members of Congress made other efforts to modernize cosmetics law, starting in the 1950s, but all of these attempts were defeated by the cosmetics industry.
By contrast, Congress has done a lot to improve the safety of other consumer products.
Congress has set safety standards for drugs, food, microwave ovens, toys, medical devices and electric blankets. Congress has regulated cars and cough suppressants. Congress has regulated laser scanners and laser pointers. Congress has taken steps to reduce water pollution and regulate waste disposal. Congress has even set safety standards for pesticides and tobacco.
But not for cosmetics.
Other than subjecting
colors
used in food, drugs and cosmetics to FDA review, cosmetics law has not changed in 80 years.
Even
guns
are more heavily regulated than cosmetics. There are more rules governing the
chemicals
we spray on crops than the chemicals we spray on our bodies.
After 80 years, it's time for Congress to finally act.
Sens. Dianne Feinstein, D-Calif., and Susan Collins, R-Maine, and Reps. Frank Pallone, D-N.J., and Leonard Lance, R-N.J., have developed
bipartisan legislation
that has the support of cosmetics companies, large and small. These bills would require FDA to review the most dangerous chemicals in cosmetics, require companies to tell FDA when contaminated products are in the marketplace, and give FDA the power to act to keep us safe.
But time is running out.
Unless Congress acts quickly, cosmetics law will grow even older - and consumers will remain unprotected from
dangerous chemicals in products
they put on their skin every day.