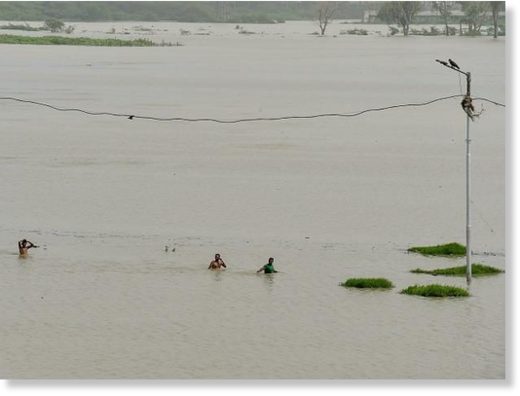 More than a dozen districts have been flooded following heavy rainfall in Uttar Pradesh and the adjoining hilly regions over the past few days, as the toll went up to 325. More than 21 people were reported to have died over the last 48 hours in flood-related incidents, including drowning and wall collapse, across the state
, including Shahjahanpur, Amethi and Auraiya districts.
Monsoon activity, which had started to slow down, regained momentum over the past week, inundating large parts of agricultural and inhabited land.
The government had already deployed columns of National Disaster Relief Force, State Disaster Relief Force and Provincial Armed Constabulary in the flood relief and rescue operations in the worst-hit areas.
Major rivers in the district, including Ganga, Ram Ganga, Yamuna, Betwa, Sharda, Ghagra, Rapti and Kuano, have swollen up at several places.
These rivers were either flowing close to or above danger levels this morning.
According to weather forecast, heavy to very heavy rainfall would continue to lash isolated places in the state, especially central and western parts of UP over the next 24-48 hours.
With the forecast of fresh downpour in the catchments and basins of rivers, the areas under their influence are likely to get flooded further.
This week, the monsoon trough passing through UP apart from a few cyclonic formations, have resulted in heavy downpour, leading to floods and the subsequent damage.
Recently, UP Chief Minister Yogi Adityanath had conducted aerial survey of flood- affected Lakhimpur Kheri and distributed relief material to victims in Barabanki district. He had also directed officials to expedite relief and rescue operations in the flood-ravaged areas.
More than 15,000 people were shifted to relief camps and secure places. The state has distributed relief material worth over Rs 500 million among victims and 46 relief camps have been set up.