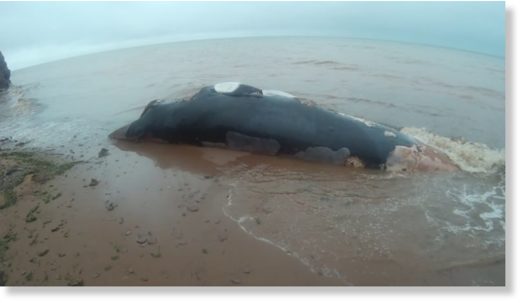 Local man found beached whale around 3 p.m. Wednesday
A beached minke whale was found dead off West Cape, P.E.I., on Wednesday afternoon.
The whale was already dead when a local man came across it at about 3 p.m. The man said he measured the whale at about seven metres (24 feet) long.
A spokesperson for DFO confirmed to CBC News that the agency is aware a minke whale washed up in the area.
"Fishery officers will visit the site and take measurements and photos of the whale," reads a statement from DFO.
"The department has been in contact with the province and the Marine Animal Response Society about the animal. DFO does not plan to conduct a necropsy on this whale."
Minke whale deaths are becoming a growing concern on the East Coast. As of early July, 14 of the whales had already died in the Maritimes this year.
"Minke whales are not considered an endangered species, however DFO is concerned about the death of any whales in our waters," the statement goes on to say.
"The department documents all reported incidents involving marine mammals, including minke whales."
In January, the U.S. National Oceanic and Atmospheric Administration (NOAA) declared the deaths of 28 minke whales along the U.S. east coast in 2017 an "unusual mortality event."
That label triggers a focused expert investigation into the cause, according to the NOAA's website.