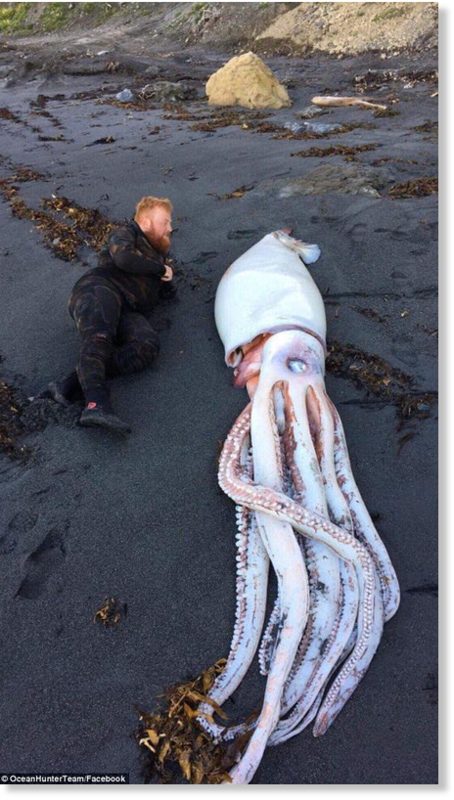 Three brothers out for a morning dive in Wellington made an unexpected find when they came across a monster 4.2m long giant squid.
Daniel, Jack and Matthew Aplin were driving along on a track near Red Rocks on the city's south coast when they came across the massive beached cephalod.
The brothers said they had come across sharks while on their diving trips but had never seen a squid of that size.
Jack Aplin said he and his brothers got a tape measure out to find out the size of the squid after they came back from diving.
Unsure who to notify of their unlikely find, the trio eventually decided to contact NIWA (National Institute of Water and Atmospheric Research) who arranged to have the squid collected.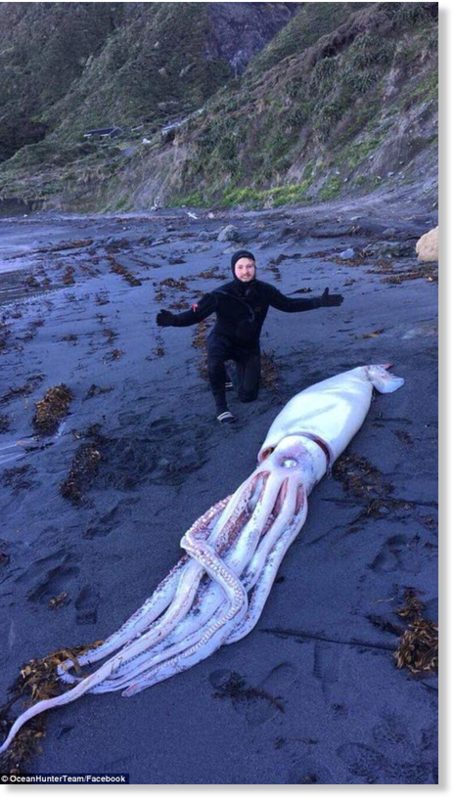 A Department of Conservation spokesman said the specimen was likely a giant squid - which he said are 'not common but not rare'.
Social media commenters were quick to make light of the discovery - posted on the Ocean Hunter Spearfishing & Freediving Specialists Facebook page.
One said: 'That's a whole heap of calamari'
Another added: 'People worry about sharks. Bugger seeing that in the water.'
Others compared the brothers' find to the colossal squid held at Te Papa - the Museum of New Zealand in Wellington - where a 5.4m colossal squid is on display.
One commenter said: 'This is significantly more impressive than the Te Papa squid.'
Another even added that the discovery looked 'bigger than the one in Te Papa'.
The squid ended up bringing the trio good luck - who ended the day's diving with a bag full of paua, an edible sea snail, and butterfish.