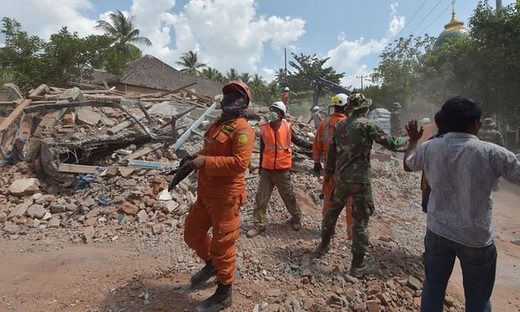 Latest quake of magnitude 6.2 reportedly collapses buildings as search in rubble continues following Sunday's disaster
An earthquake with a magnitude of 6.2 hit Indonesia's Lombok island on Thursday, less than a week after a 6.9-magnitude tremor that is believed to have killed more than 300 people.
Thursday's earthquake struck just after midday, sending panicked residents into the streets. According to information from Indonesia's meteorology agency the epicentre of the quake was 6km north-west of the island with a depth of 12 meters.
Sutopo Purwo Nugroho, the spokesman for the national disaster agency, said that there was "public panic" on Thursday as people ran from their homes as they felt the latest tremor. "The public are still traumatised by the quake before," he said. Initial footage posted by Sutopo on Twiter showed indications of further damage to buildings and power lines.
The death toll for Sunday's earthquake is still climbing and unclear. Officials and organisations including the military, the governor of the province that includes Lombok, the national search and rescue agency and the regent of North Lombok have issued different death tolls, ranging from 226 to 381.
The government-run news agency Antara put the death toll for Sunday's tremor at 347. The number of the dead may still climb higher, as rescuers work to free people trapped in the rubble.
The national disaster agency announced today that they believed the death toll to be 164 with at least 1,400 people seriously injured. They estimate that 156,000 were displaced by Sunday's earthquake and are currently sleeping rough in makeshift tents, with supplies hard to come by.
Sutopo, from the national disaster agency, has repeatedly said the number of deaths will increase. However, he said it was not uncommon for confusion on exact deaths tolls to arise during an emergency, as has occurred in previous natural disasters, such as an earthquake in Padang in 2009, and the eruption of Mount Merapi in 2010.
To clarify the difference in figures agencies will be pooling their data, Sutopo said in a statement released to the media, where the identities of the victims will be crosschecked and verified. In some cases he said, it is possible one victim has been recorded three times based on different names, such as nicknames and first names, given to emergency workers.
Search and rescue teams have been working to access those in the worst-affected areas, close to the epicentre in northern Lombok.
Sunday's earthquake triggered at least 350 aftershocks, which were expected to continue for the next two weeks.
The US Geological survey reported a 5.2-magnitude earthquake just off the coast of Lombok between the tourist town of Senggigi and the Gili Islands on Monday at 11.50pm. It also reported a 5.4-magnitude quake at 2.21am on Tuesday, close to the site of Sunday's 6.9-magnitude quake.
Lombok had already been hit by a 6.4 quake on 29 July that killed 17 peopleand briefly stranded several hundred trekkers on the slopes of the volcano, Mount Rinjani.