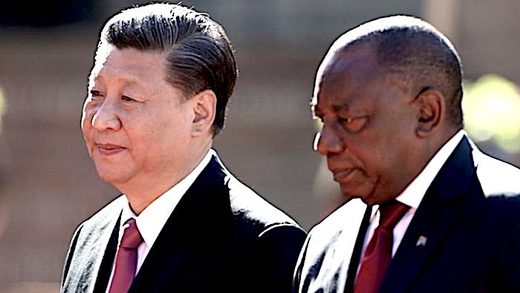 China is doubling its commitments to Africa as it builds support from the developing world amid an escalating trade war with the US.
The moves came during Chinese President Xi Jinping's recent tour of four African nations, capped last week by the BRICS meeting of emerging economies - Brazil, Russia, India, China and South Africa, which hosted the summit.
But some observers say that as Beijing is ambitiously pushing ahead Xi's flagship investment and infrastructure project, the "Belt and Road Initiative",
China still faces the challenge of debt problems on the world's second largest continent.
Xi's visits to Senegal, Rwanda, South Africa and Mauritius, his first overseas trip since starting his second term in March, came as the US-China trade war intensifies, with US President Donald Trump accusing Beijing of unfair practices and stealing innovation, and threatening punitive tariffs on hundreds of billions of dollars of Chinese products.
In coastal West Africa, Xi and Senegalese President Macky Sall oversaw the signing of agreements on Belt and Road projects,
Xi's plan to link countries in a China-centred trading network.
Under the strategy, Beijing will invest hundreds of billions of dollars in infrastructure, such as roads and ports, with the goal of connecting China with the
rest of the world.
The deals with Senegal, a nation of 15 million people, now expand the Belt and Road plan to the Atlantic coast.
As China's first president to visit Rwanda - one of the world's poorest countries that is struggling to lift its economy 24 years after a devastating genocide - Xi called on more Chinese companies to invest in Central and East Africa. The two nations signed 15 deals, including US$126 million in loans for two road projects.
In South Africa, the continent's most industrialised nation, Xi promised to increase China's imports and pledged a US$2.5 billion loan from the China Development Bank to the troubled state-owned power company Eskom.
In total, Xi agreed to US$14.7 billion in South African investments,
more than doubling the US$6 billion he promised the nation during the Forum on China-Africa Cooperation meetings in 2015.
Observers said Xi's Africa tour and his pledges to defend a multilateral free trading system had further cemented Beijing's influence in the region. His efforts to garner support from developing economies, meanwhile, contrasted sharply with the approach of Trump, who has shown little interest in the region.
"Given how little the leaders of the Euro-American world visit Africa, this is significant in and of itself,"
said Ross Anthony, director of the Centre for Chinese Studies at Stellenbosch University in South Africa.
"This gives African states a sense of how important China views them, given its importance on the world stage."
Chinese companies are not hiding their interest in the continent and its rich resources, according to a new report by Baker McKenzie, a global law firm based in Chicago.
Loans from Chinese lenders for African energy and infrastructure projects almost tripled between 2016 and 2017, from US$3 billion to US$8.8 billion. Chinese lenders, particularly the China Development Bank and China Exim, accounted for nearly half of all infrastructure finance in the region in 2017.
But Beijing's involvement in Africa has faced scrutiny, as
some caution against China's debt-book diplomacy trap. Countries such as Kenya and Djibouti were warned after China flooded them with billions of dollars of infrastructure loans and investments. US officials have said that most of the projects were not benefiting the local economies, and that the countries would be indebted to China and subject to its influence.
China has denied such claims, saying the huge infrastructure investments "follow the golden rule of shared benefits through consultation and contribution, and have delivered US$2.2 billion tax revenue and more than 200,000 jobs for cooperation partners", foreign ministry spokeswoman Hua Chunying said last week.
Observers said the perception of debt traps could be among the top challenges Xi faces
as he pushes his Belt and Road plan, which is a cornerstone of China's foreign policy and Beijing's pursuit of national rejuvenation.
Debt traps "carry financial and reputational risks to China",
said Cobus van Staden, a China expert at the South African Institute for International Affairs, adding that such concerns could have been discussed during Xi's recent meetings with African leaders.
As Chinese investment flows into Africa, there are risks it could trigger further setbacks on a continent with a bleak history of European colonisation, especially in countries where leaders and elites are criticised for cosying up to Chinese businessmen, said Stellenbosch University's Anthony.
But as financing infrastructure remains a major problem for most African countries, experts said it was not easy to find a balance.
"African countries also face the costs of systemic underdevelopment when they lack infrastructure," van Staden said. "It is a complex balancing act between putting debt sustainability first and yet still investing in high-capital outlay investments that are key to development, notably infrastructure."