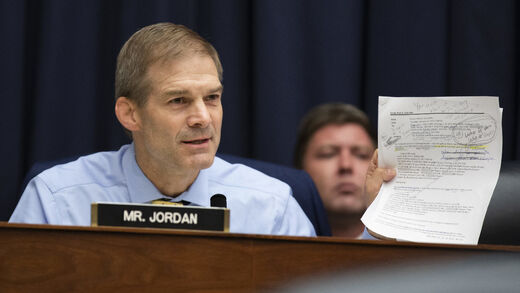 Amid the sound and fury from the insufferable Democrats acting as
obstructionists and cheerleaders
during disgraced FBI Agent Peter Strzok's congressional testimony Thursday, an extremely important revelation was almost lost in the noise. Strzok's testimony, under oath, is that Bruce Ohr provided information to the FBI that included material compiled by British ex-spy Christopher Steele - the Russian dossier.
Questioned by Rep. Jim Jordan, R-Ohio,
Strzok became the first FBI or Department of Justice official to admit that Bruce Ohr, whose wife Nellie Ohr was hired by Fusion GPS to conduct opposition research against then-candidate Donald Trump, supplied the FBI with documents related to the Russia counterintelligence investigation.
On Thursday night, Jordan was interviewed by Sean Hannity to discuss the significance of this revelation.
"The top DOJ official, Bruce Ohr, actually hands parts of the dossier to the FBI. And remember, Bruce Ohr's wife, Nellie, worked for Fusion GPS, who was paid by the Clinton campaign to put this entire dossier together. This is the first time, to my knowledge, the FBI has admitted they got parts of the dossier from Bruce Ohr, a fellow DOJ employee," Jordan explained. "That's scary."
Why "scary?" Scary because the same FBI agents who
changed
the rules to avoid indicting Hillary Clinton likely used
flawed and biased
opposition research from her political campaign to launch a counterintelligence investigation against her opponent during a presidential election year. Scary because members of the Trump campaign were
surveilled
by the federal government, which acquired FISA warrants based on that flawed and biased information. Scary because information
obtained
by that surveillance was possibly
leaked
to the media to feed a false Russia-collusion narrative, to give ammunition to Trump's political opponents to
sink
his nominees for key federal positions, and ultimately to delegitimize and destabilize his presidency to prevent him from accomplishing his agenda.
Scary because special counsel Robert Mueller is now investigating Trump to determine if he interfered in the ongoing Russian collusion investigation - an investigation based on the false premise of the Russian dossier - or "
obstructed justice
" by using his constitutional authority to fire a subordinate, James Comey. Scary because Mueller's report will be used by Democrats to argue for impeachment, the crown jewel goal to stop Trump and his agenda. Scary because the Democrats have shown no interest in investigating any of these claims and have impeded congressional attempts by Republicans to have a serious investigation.
Scary because what's happening to President Trump could happen to any American if this goes unchallenged and unquestioned.
Chris Pandolfo is a staff writer and type-shouter for Conservative Review. He holds a B.A. in politics and economics from Hillsdale College.