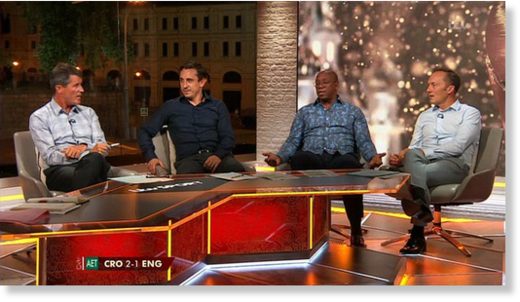 Roy Keane has been slammed as a 'miserable git' after he blasted Ian Wright and the rest of the England fans for 'getting ahead of himself' and over-blowing the country's chances in the World Cup.
The former Manchester United midfielder was highly critical of England fans and pundits alike for 'planning for the final' before the Croatia defeat.
But former Arsenal striker Wright defended the fans and said people deserved to get excited about the team after several disappointing tournaments over the past three decades.
The row went on until Wright mocked Keane's Irish accent, causing the infamous hardman to give a withering look towards the camera and direct a 'death stare' back at Wright.
Viewers took to social media to back up Wright and blast Keane's cynicism, labelling the former Ireland captain a 'right sour git'.
Roy Keane believes some people have got carried away...
It came as ITV was criticised again on social media for its 'curse' on the England side, with England winning just two World Cup finals games shown by the broadcaster since 1998.
Keane began by saying England fans and pundits were 'getting carried away' by planning for the final instead of 'focusing on Croatia'.

He said: 'You were planning the final, where the parades were.
You need a reality check.'
Wright responded: 'Why shouldn't we get excited about it? It's something to get excited about.
'People weren't even expecting us to get to the semi-final, why couldn't we have got excited about being in there [the final]?'
The pair begin shouting over each other with Keane telling Wright he was a 'grown man' while fellow pundit Gary Neville visibly struggles not to laugh while sitting between them.
Keane said: 'You've played the game, you know how hard it is to get to these big finals. Or even get to a World Cup. And you're talking about the final.'
Wright then repeated 'final' in a mock Irish accent, causing Keane to say: 'You know what I'm talking about. Don't embarrass yourself.'
Wright then quipped: 'He's going to cane me again,' before presenter Mark Pougatch tried to wrestle back control of the programme.
The argument was the talk of social media with some Twitter users saying it was almost as entertaining as the match itself.
Others criticised both men for 'acting like children' with some supporting Keane and others backing up Wright.
Many said they thought Keane would win if the pair came to blows, however.
One Twitter user said: 'That Roy Keane v Ian Wright fight has put the seal on it - best World Cup ever.'
Another added: 'Roy Keane dropping truth bombs and taking Ian Wright to school', while another said: '@GNev2 @IanWright0 legends!!! Winding up Roy Keane and Gary laughing uncontrollably, just brilliant. Love you all #manutdlegends #Ianwrightlegend Bring on Euro 2020, this was just the warm up!!'