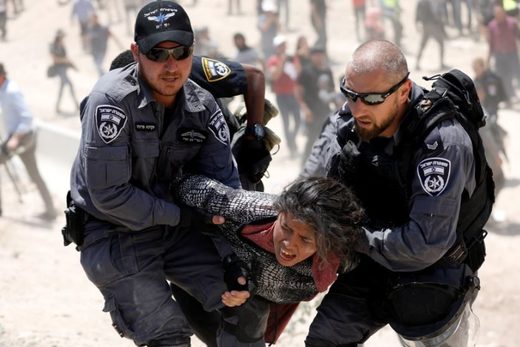 Fifteen other Palestinians were arrested during the demolition.
Israeli occupation forces wounded 38 Palestinians and arrested 15 others during an Israeli military operation to demolish scores of Palestinian homes east of occupied city of Jerusalem.
Residents of Khan al-Ahmar said that the Israeli bulldozers stormed their town and demolished their homes and livestock facilities.
The Israeli occupation authorities claimed that the homes in the Palestinian town, which is home to 700 Palestinians, were constructed without licenses.
However, the Palestinians established this town after they were violently forced out of their homes in Jerusalem by the Zionist gangs in 1948.
Some of them descended from Al-Naqab. They were also driven out of their homes in 1948 by the Jewish Zionist gangs.
The Israeli occupation government has been demolishing Palestinian villages and towns in favour of the so-called E1 settlement project which will be carried out at the expense of 12,000 dunums of Palestinian land stretching from eastern occupied Jerusalem to the Dead Sea.