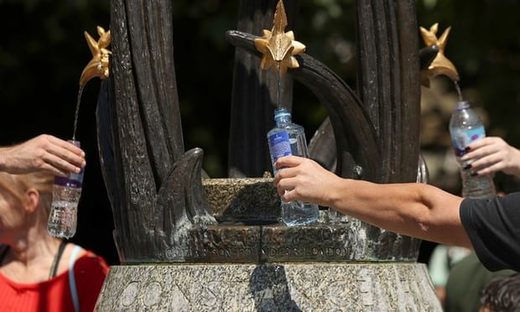 Utilities companies struggling to keep up with demand as billions of extra litres are pumped into system
Utilities companies have warned of potential
water shortages
across the UK and a hosepipe ban has been introduced in Northern Ireland as temperatures were forecast to remain high over the weekend.
Britain saw the
record for the hottest temperature of the year broken for the fourth-consecutive day on Thursday
, as the mercury reached 33C in Porthmadog,
Wales
.
Forecasters expect the heatwave to continue on Saturday and Sunday, when northwest England, northeast Wales, western
Scotland
and possibly Northern Ireland could hit around 30C.
However, the conditions have left water companies concerned,
with some warning potential supply problems could be around the corner after "significantly more" usage than normal in recent days.
Northern Ireland
will introduce a hosepipe ban from the weekend to avoid any interruptions in service.
NI Water chief executive, Sara Venning, said the company was appealing to customers to stop non-essential use, as hoses and sprinklers were causing strain on supplies.
"In recent days our treatment works have been operating at near maximum levels with over 700 million litres of
water
being put into the network, which is some 25 per cent more than is normal for this time of the year," she said.
"Despite these steps, demand continues to outstrip supply. It would be our intention to introduce a formal hosepipe ban in an effort to protect the public against the increased threat of supply interruptions."
Huge spikes in demand for water at mornings and evening peak times mean
utility
companies are having to pump billions more litres of water into the system, but they say it is often being used by customers as fast as it is supplied.
Severn Trent is asking people to be "neighbourly" and use water carefully, while United Utilities and Anglian Water are among other firms who have issued advice on cutting down on water use.
The
Met Office
's heat-health watch alert remains at level two, meaning social and healthcare services are at the ready to reduce harm from a potential heatwave.
Public Health England
issued a warning saying the extreme heat may pose a risk to the most vulnerable - and the heat has already claimed several casualties.
A 17-year-old boy was found dead in the River Aire in Leeds on Wednesday after reportedly getting into difficulties while swimming the previous day.
Elsewhere the body of 13-year-old Ryan Evans, who went missing on Monday while bathing in Westport Lake in Stoke-on-Trent, was also recovered from the water.
The body of a man was also recovered from a lake in Nutfield,
Surrey
, on Monday.
The RSPCA called on pet owners to keep a close eye on pets, revealing it has received hundreds of calls about dogs in hot cars over the past fortnight.
Commuters have endured delays after rail services were forced to impose speed limits due to overheating tracks.
South Western Railway said track temperatures were expected to reach 47C on many parts of its route this week.
Services on the
London Waterloo
to New Malden line are being subjected to speed restrictions from 11am each day until Friday.
Additional reporting by PA