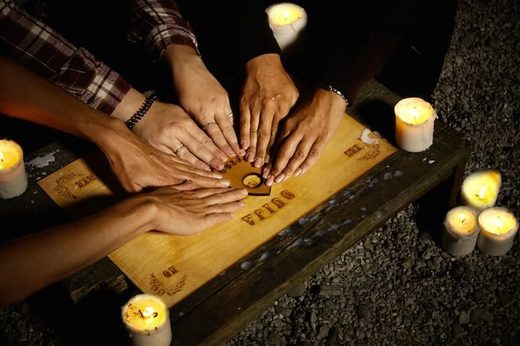 A convicted double murderer has won the right to a retrial on the basis that four of the jury had used a Ouija board the night before finding him guilty. Does this mean that the UK judicial system now accepts the evidence of otherworldly agencies in court? Surely not?
The word "Ouija" is a combination of the French word "oui" and the German word "ja" and means "yes, yes". All over the ancient world, people have drawn shapes in sand and made prophecies by believing they were channeling data from demonic and spiritual sources. Most often today, Ouija boards are constructed from simple wooden panels painted with letters and numbers and the words "yes" and "no" and generally feature in horror stories as conduits for spirits to communicate with users. A
Smithsonian Magazine
article informs how the "19th century American obsession with spiritualism and the belief that the dead are able to communicate with the living" attracted millions of adherents before interest peaked in the second half of the 19th century.
However, in this story, a ouija board played a central role in altering the course of a murder case when Stephen Young of Pembury, Kent, a 35-year-old an insurance broker, was given a life sentence last March for murdering the newly-wed couple Harry and Nicola Fuller at their cottage in Wadhurst, East Sussex.
The Independent
reported that Mr. Young's counsel, David Penry-Davey QC has since told the court that
"four jury members had used a Ouija board at a hotel the night before returning their verdicts
" which was a "material irregularity going to the root of the trial."
According to an interview with a juror published in an
Inside Story
article, in the hotel room the night before judging Stephen Young, the letters of the alphabet were printed on scraps of paper and a room glass was used as a pointer. The jurors each put a finger on the glass, which first moved towards the letters "Walther PPK" - which was the type of gun used in the murder case. Then, the spirit revealed it's self as "Harry Fuller" and it finally wrote out the message: "Vote guilty tomorrow..."
The
juror stated
:
"It is only right to say I was crying by this time and the other ladies were upset as well. We realized it had gone too far and we ended the exercise. Ray threw the paper away. We retired to our rooms and agreed not to relate what we had done to anyone."
Michael Lawson QC for the Crown contended "the court should not 'elevate a drunken experiment' into a recognition that it had some practical effect" but this particular allegation cannot be so readily dismissed. While using the Ouija board, some of the jury "believed" they had contacted Harry Fuller, who offered information pertaining to and influencing the outcome of the case.
Read the remainder of the article
here
.