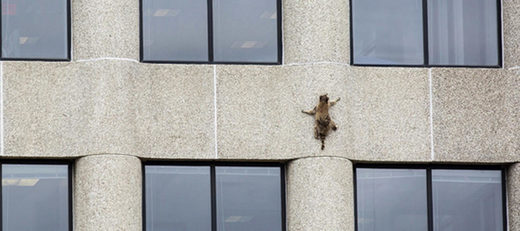 A daring raccoon captured the hearts of many social media users around the world as he climbed a skyscraper in St. Paul, Minnesota, and lived to tell the tale.
The furry creature
began
his harrowing climb after maintenance workers took the animal off the roof of another office building in the city. But the raccoon, who could not be deterred, set its sights on scaling the UBS tower, one of the tallest buildings in St. Paul.
As more people began to see the furry creature's exploits on social media, one person got creative and started a Twitter
account
on behalf of the raccoon.
The account, called "the MPR Raccoon," quickly gained a following among locals and celebrities alike. The Twitter page had 3,166 followers as of Wednesday.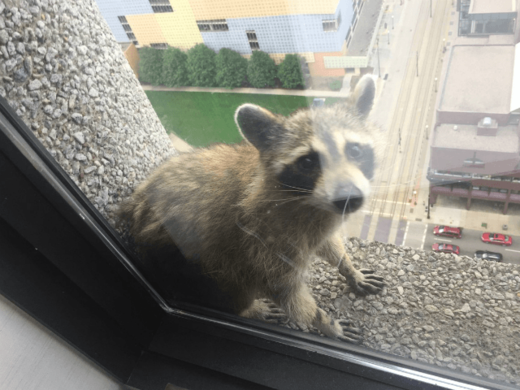 While social media reacted, the city's mayor
urged
those concerned about the safety of the animal that the city was working with the building's owner and maintenance staff to ensure it would be endangered or scared:
Despite navigating a 25-story building with no balconies or open windows to latch on to, the raccoon made it to the top at around 2:30 a.m.
Laurie Brickley, a spokeswoman for St. Paul's Department of Safety and Inspections,
told
the
Star Tribune
that the animal had been caught in a trap set by animal control officials and the city is making arrangements with Wildlife Management Services to pick up the raccoon.
"I can confirm he made it to the roof and is in the trap," Brickley said.
UBS Plaza, the building's management,
tweeted
a picture of the raccoon Wednesday morning inside the trap eating cat food and waiting to be transported to its next destination.
"After a delicious meal of soft cat food, #mprraccoon has been caught and will be picked up by Wildlife Management. Goodbye friend!" the building's management tweeted.