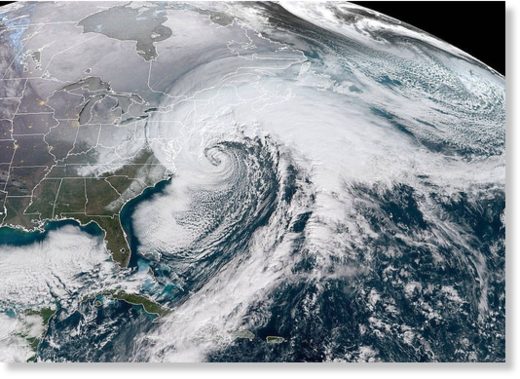 A new study published in a peer-reviewed journal finds that climate models exaggerate the global warming from CO2 emissions by as much as 45%. If these findings hold true, it's huge news. No wonder the mainstream press is ignoring it.
In the study, authors
Nic Lewis and Judith Curry
looked at actual temperature records and compared them with climate change computer models.
What they found is that the planet has shown itself to be far less sensitive to increases in CO2 than the climate models say. As a result, they say, the planet will warm less than the models predict, even if we continue pumping CO2 into the atmosphere.
As Lewis explains: "Our results imply that, for any future emissions scenario, future warming is likely to be substantially lower than the central computer model-simulated level projected by the (United Nations Intergovernmental Panel on Climate Change), and highly unlikely to exceed that level.
How much lower? Lewis and Curry say that their findings show temperature increases will be 30%-45% lower than the climate models say.
If they are right, then there's little to worry about, even if we don't drastically reduce CO2 emissions.
The planet will warm from human activity, but not nearly enough to cause the sort of end-of-the-world calamities we keep hearing about. In fact, the resulting warming would be
below
the target set at the Paris agreement.
This would be tremendously good news.
The fact that the Lewis and Curry study appears in the peer-reviewed American Meteorological Society's
Journal of Climate
lends credibility to their findings. This is the same journal, after all, that recently published widely covered studies saying the
Sahara has been growing
and the climate boundary in central U.S. has
shifted 140 miles
to the east because of global warming.
The Lewis and Curry findings come after another study, published in the prestigious journal
Nature
, that found the long-held view that a doubling of CO2 would boost global temperatures as much as
4.5 degrees Celsius was wrong
. The most temperatures would likely climb is 3.4 degrees.
It also follows a study published in
Science
, which found that
rocks contain vast amounts of nitrogen
that plants could use to grow and absorb more CO2, potentially offsetting at least some of the effects of CO2 emissions and reducing future temperature increases.
Given that environmentalists want the U.S., along with the rest of the world, to spend trillions of dollars trying to cut down on CO2 emissions - based entirely on doom-and-gloom climate model forecasts - these findings are profoundly important.
But instead of taking Lewis and Curry's findings seriously, environmentalists and others in the "settled science" community simply dismiss them - or anyone else who fails to toe the climate line - as "deniers."
Lewis even has his own entry on a "Climate Denier List" web page, and
Mother Jones
labeled Curry a denier when she testified before Congress last year. (When IBD wrote about the nitrogen findings earlier this month, various climate scientists accused us of being
misleading, not scientifically credible, and derogatory
.)
Slapping a scarlet D on anyone who veers from environmentalist dogma
is not science
. It's a strong-arm tactic meant to squelch debate and impose scientific conformity.
The question now is: What will it take for the "settled science" crowd to stop trying to silence dissent and admit that maybe, just maybe, the science on global warming isn't so settled after all?