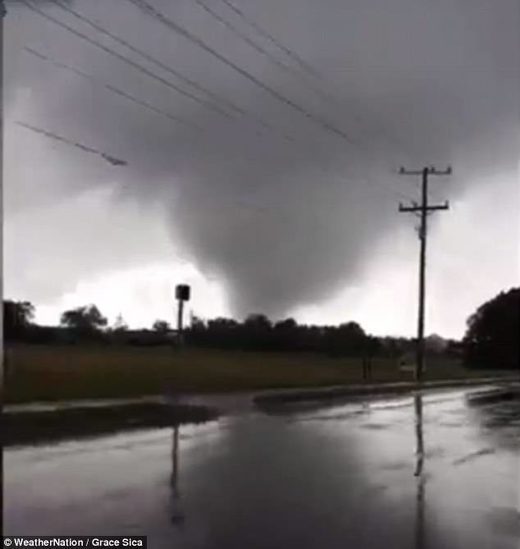 Four tornadoes were confirmed near the Gulf Coast on Sunday as a round of severe storms caused damage from southeastern Louisiana to southern Alabama and into the Florida Panhandle.
A pair of EF0 tornadoes that injured five people were confirmed by the U.S. National Weather Service in Baldwin County, Alabama, Sheriff Hoss Mack told WALA-TV. Five people were injured in the storm, one of whom
was listed in serious condition
, WALA-TV reported.
The first of these tornadoes overturned five recreational vehicles at the Anchors Aweigh RV Park in the town of Foley, about 30 miles southeast of Mobile.
Just 10 minutes later, another EF0 tornado touched down near Elberta, uprooting trees but causing only minor damage to a few homes.
In Florida, a waterspout roared ashore late Sunday afternoon on Okaloosa Island and Fort Walton Beach, about 140 miles west of Tallahassee, heavily damaging at least one home,
downing trees and power lines
and
tossing vehicles
.
"It was not even 10 seconds
when we got down there
," Michelle Seitz, whose home was damaged in the storm, told WEAR-TV. "We heard stuff rip off the house. We came upstairs, saw the roof was off over kitchen area, boat was gone, banisters were gone. At the time, the tornado was sitting in the middle of the sound turning."
There were no reports of injuries in Okaloosa County from this tornado. In Escambia County, another possible tornado damaged five homes in Molino, but nobody was hurt, the Associated Press said.
An apparent tornado also downed trees on homes at Fort Rucker, Alabama, prompting the Army to temporarily close the southeastern Alabama base to all but those who live and work on base about 80 miles north of Panama City, Florida. No injuries were reported.
In Crenshaw County, Alabama, south of Montgomery, multiple trees were downed on homes by another apparent tornado and rural roads were blocked Sunday afternoon, though no injuries were reported, county emergency management told WSFA-TV.
The National Weather Service in Birmingham is planning to survey damage parts of southern Barbour and southern Montgomery counties.
On Sunday morning, the roofs of several homes were damaged and cars were tossed by an EF1 twister in Galliano, Louisiana, roughly 72 miles from New Orleans, according to the National Weather Service. No injuries were reported.
Power lines were also knocked down by the storm.
More than 800 were without power
in Lafourche County as of Sunday night, according to electric utility company Entergy.
The risk for a few severe storms will target the Southeast again on Monday. Damaging wind gusts and large hail are the main threats, although an isolated brief tornado is also possible, according to weather.com senior meteorologist
Jon Erdman
.