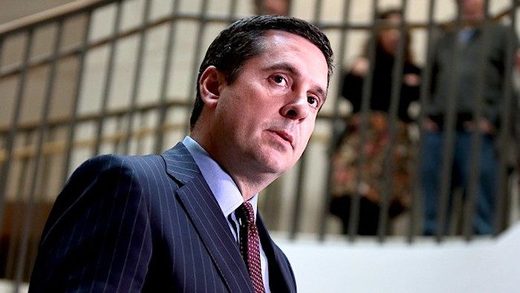 The chairman of the House Permanent Select Committee on Intelligence says that contempt proceedings and possible impeachment are on the table for FBI Director Christopher Wray and Deputy Attorney General Rod Rosenstein
if they do not provide Congress with documents related to the Russia investigation.
"We're not going to just hold in contempt. We will have a plan to hold in contempt and to impeach,"
California Rep. Devin Nunes told Fox News' Laura Ingraham Monday.
Republicans on the Intelligence Committee and other congressional panels have battled for months with Wray and Rosenstein over the Russia documents.
The latest fight is over an internal FBI document that laid out the basis for the counterintelligence investigation into President Donald Trump's campaign.
Nunes, a Republican, sent a letter to Wray and Rosenstein on April 4 demanding the document, known as an Electronic Communication (EC).
The agencies provided the Intelligence Committee with a heavily redacted version of the EC, but Nunes wants to see the entire document.
Nunes also pressed the FBI and DOJ to
provide copies of four applications filed for surveillance warrants against former Trump campaign adviser Carter Page.
He gave the agencies until Wednesday to produce the documents or face legal action. Nunes initially sought the documents in an Aug. 24 subpoena.
The House Judiciary Committee is waging its own battle with the DOJ and FBI for documents related to the Page warrants, former Secretary of State Hillary Clinton's email investigation, and the firing of former FBI Deputy Director Andrew McCabe.
Wray announced in March that he is doubling the number of FBI staff working to release the documents. Attorney General Jeff Sessions appointed John Lausch, the U.S. attorney for the northern district of Illinois, to oversee and speed up the document production.
Nunes said Monday that he is confident that the documents will be eventually be provided to his committee. "We're not messing around here. They're going to give these documents," said Nunes.
"They have a responsibility to give us documents when we ask for them,"
he added.
"At the end of the day, we're going to win on this, and it's just a matter of how tough they're going to make it for Congress to actually do our job under the Constitution."