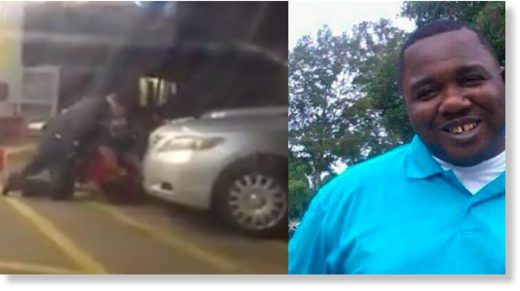 Louisiana Attorney General Jeff Landry has announced that the two Baton Rouge police officers who killed Alton Sterling will not face criminal charges over the 2016 killing. Louisiana's decision follows one in May 2017 by the US Department of Justice which declined to bring any civil rights charges against the officers.
Members of Sterling's family were to meet with Landry just before he announced his decision as to whether the officers would face criminal charges, but the plan was turned on its head after frustrated family members leaked the decision to reporters as they left.
​"They're not gonna bring charges on anybody. Why would they do that? This is white America," Veda Washington, Sterling's aunt, proclaimed outside the Louisiana Attorney General's office.
"Of course we're not surprised by the ruling that we have today because we're dealing with the culture of some law enforcement in our city," Arthur Reed, a Baton Rouge activist who founded Stop The Killing, Inc. and filmed the killing of Sterling told Sputnik. "I see that culture as a secret society. The Ku Klux Klan infiltrating law enforcement and becoming the 'Blue Klux Klan' with a license to kill - and are killing black men."
Police on July 5, 2016, received an anonymous tip that Sterling had a firearm on him and threatened the caller with it. Police arrived as Sterling went about his usual business of selling CDs and DVDs outside a convenience store. According to the US Department of Justice, one of the officers put a gun to Sterling's head after he refused to put his hands on the hood of a car.
Abdullah Muflahi, the owner of the store in front of which Sterling was killed,
told The Daily Beast
that there wasn't an "altercation" until police tasered Sterling and tackled him. That's when Muflahi started recording cell phone video.
At one point, one of the officers yelled "if you move, I swear to God;" another said Sterling had a gun.
He was then shot while on the ground.
Family lawyers say that Sterling's relatives were shown video in which officer Blane Salamoni said to Sterling, "I'll kill you b*tch," or something similar.
"Our investigation has concluded officers Lake and Salamoni attempted to make a lawful arrest of Alton Sterling based upon probable cause," Landry said in a statement before adding that the officers acted under the presumption that Sterling was armed, that the events transpired very quickly and that Sterling had drugs in his system.
"We were actually gathering footage for our documentary that we put into the community to try to stop violence and we just so happened to come up on that situation and released that because we see it as an injustice. We see it as a murder," Reed told Sputnik after the State Attorney General's decision.
"Of course, people point out the fact that Alton Sterling was a convicted felon with a firearm, but you have to be strategic when you look at these types of things. Because the initial contact that officers made with him, they didn't know if he was Alton Sterling or George Williams. They didn't know who he was, so to handle him like that off top was a violation of his civil rights - off top. But if they handled him in that manner, that meant that Salamoni meant to kill him," Reed said.
Reed says that Sterling and officer Howie Lake were engaged in dialogue in the beginning, and the situation was under control. "Then you have another officer that comes out, puts a gun to his head and says "motherf*cking b*tch I will kill you," his intent was to kill him the whole time." Reed says officer Lake did little wrong in the interaction. Salamoni, according to Reed, "is a murderer with intent to murder - and that's what he did."