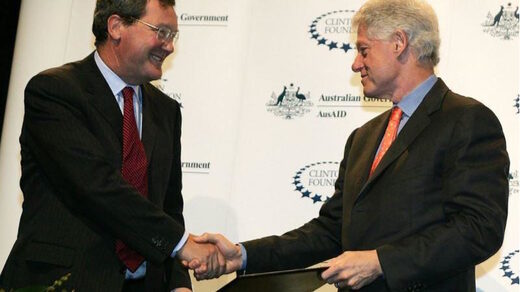 The Australian diplomat whose 2016 tip resulted in the FBI's Trump-Russia counterintelligence investigation had previously arranged one of the largest donations to Clinton charities, documents reveal.
Alexander Downer, formerly Australia's Foreign Minister, secured $25 million in aid from Australia for the Clinton Foundation's fight against AIDS - according to decade-old government memos archived on the Australian foreign ministry website, report John Solomon and Alison Spann of
The Hill
.
A 2006 Memorandum of Understanding (MOU) signed by both Downer and President Clinton outlines a four year project to provide screening and drug treatment to AIDS patients in Asia.
The funds were originally slated for the Clinton Foundation, but were later routed to the Clinton Health Access Initative (CHAI).
Australia was one of the largest donors to CHAI:
In the years that followed, the project won praise for helping thousands of HIV-infected patients in Papua New Guinea, Vietnam, China and Indonesia, but also garnered criticism from auditors about "management weaknesses" and inadequate budget oversight, the memos show. -The Hill
Downer tipped off Australian authorities after a conversation with Trump campaign advisor George Papadopoulos at a London bar, in which Papadopoulos reportedly said the Russians had "dirt" on Hillary Clinton. After Australian authorities alerted the FBI, a counterintelligence probe was launched according to reports - despite the fact that Papadopoulos was likely referring to already-public information concerning hacker Guccifer.
Moreover,
Congressional investigators weren't told about Downer's connection to the Clinton Foundation.
"Republicans say they are concerned the new information means nearly all of the early evidence the FBI used to justify its election-year probe of Trump came from sources supportive of the Clintons, including the controversial Steele dossier," reports
The Hill
.
"The Clintons' tentacles go everywhere. So, that's why it's important," said Rep. Jim Jordan (R-Ohio) chairman of a House Oversight and Government Reform subcommittee. "
We continue to get new information every week it seems that sort of underscores the fact that the FBI hasn't been square with us.
"
Democrats have accused the GOP overreach, claiming that Downer's role with the Clinton Foundation deal shouldn't be a factor.
"The effort to attack the FBI and DOJ as a way of defending the President continues," said Rep. Adam Schiff (D-Calif.), the top Democrat on the House Intelligence panel. "Not content to disparage our British allies and one of their former intelligence officers, the majority now seeks to defame our Australian partners as a way of undermining the Russia probe. It will not succeed, but may do lasting damage to our institutions and allies in the process."
Australia and the Clinton Charities
In January we reported that the FBI had asked retired Australian policeman-turned investigative journalist, Michael Smith, to provide information he has gathered detailing
multiple allegations of the Clinton Foundation receiving tens of millions of mishandled taxpayer funds
, according to
LifeZette
.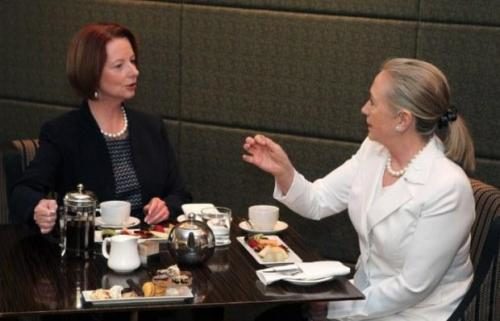 Of note, the Clinton Foundation received some
$88 million
from Australian taxpayers between 2006 and 2014, reaching its peak in 2012-2013 - which was coincidentally (we're sure) Australian Prime Minister Julia Gillard's last year in office. Smith names several key figures in his complaints of malfeasance, including Bill and Hillary Clinton and Alexander Downer.
The materials Smith gave to the FBI concern the MOU between the Clinton Foundation's HIV/AIDs Initiative (CHAI) and the Australian government.
Smith claims the foundation received a "$25M financial advantage dishonestly obtained by deception" as a result of actions by Bill Clinton and Downer, who was then Australia's minister of foreign affairs.

Also included in the Smith materials are evidence he believes shows "corrupt October 2006 backdating of false tender advertisements purporting to advertise the availability of a $15 million contract to provide HIV/AIDS services in Papua New Guinea on behalf of the Australian government after an agreement was already in place to pay the Clinton Foundation and/or associates."-Lifezette
As a reminder, the
Australian government announced that they would stop pouring millions of dollars into accounts linked to the Clinton
charities in November of 2016
- right after Hillary Clinton lost the election.
The federal government confirmed to news.com.au it has not renewed any of its partnerships with the scandal-plagued Clinton Foundation, effectively ending 10 years of taxpayer-funded contributions worth more than $88 million.

The Clinton Foundation has a rocky past. It was described as "a slush fund", is still at the centre of an FBI investigation and was revealed to have spent more than $50 million on travel.

Despite that, the official website for the charity shows contributions from both AUSAID and the Commonwealth of Australia, each worth between $10 million and $25 million.
Norway, coincidentally, also reduced its
$20 million / year
donations to the Clinton Foundation right after Hillary's loss.
A third complaint by Smith revolves around a "$10 million financial advantage dishonestly obtained by deception between April 1, 2008, and Sept. 25, 2008, at Washington, D.C., New York, New York, and Canberra Australia involving an MOU between the Australian government, the "Clinton Climate Initiative," and the purported "Global Carbon Capture and Storage Institute Inc."
When asked why the Clinton Foundation was chosen as a recipient of Australian taxpayer dollars, a spokesman for the Department of Foreign Affairs and Trade said that all funding was used "solely for agreed development projects" and Clinton charities have "a proven track record" in helping developing countries.