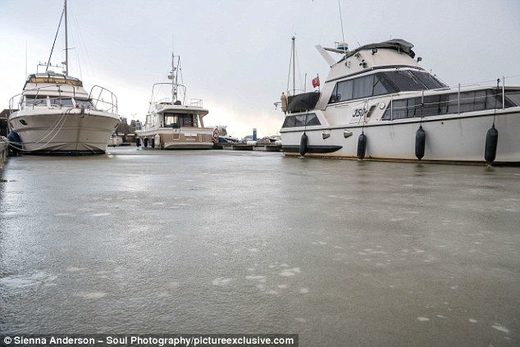 Part of the sea around the UK have frozen over after the 'Beast From The East' continues to batter Britain with snow and sub-zero temperatures.
Boats were trapped on Bembridge Harbour, on the east coast of the Isle of Wight after water temperatures dropped below -2C.
Temperatures on the Isle dipped
below -6C overnight
and an amber weather warning has been issued for today.
Video footage shot at Hampton,
Herne Bay
shows waves turning into icy sludge when then broke onto the beach today.
The footage has been shared more than 30,000 times on Facebook and has attracted dozens on comments on social media.
Bristol and Southend have also seen their coastline affected by the sub-zero temperatures, with swathes of water washing in quickly turning into snow.
And on Monday, locals in Weston-Super-Mare shared their photographs which showed ice washing up on the shores.
The sea around the Isle of Sheppey also froze over last night for the first time since the winter of 1963, according to Kent Live
.
Sarah Cook, flood duty manager for the Environment Agency, said : 'Strong winds and large waves could combine with high tides this week and cause flooding along the north east and south west coastlines.
'Our teams are on the ground, checking and maintaining flood defences. We urge people to stay safe on the coast by taking extreme care on coastal paths and promenades and don't put yourself in unnecessary danger by taking "storm selfies" or driving through floodwater.'
Temperatures in London remained just below freezing at around -2C as the deep freeze set in.
Storm Emma, rolling in from the Atlantic, is meeting the Beast from the East's chilly Russia air - causing further widespread snowfall and bitter temperatures after the mercury fell as low as -16C last night.
The Met Office warned: 'Some roads are likely to become blocked by deep snow, stranding vehicles and passengers. Long interruptions to power supplies and other utilities are very likely to occur, along with damage to trees and other structures due to heavy snow or ice.'
On the first day of meteorological spring today, temperatures will drop to -11C during the day as Scotland was also under a 'red alert' - and London Paddington train station was closed due to 'severe weather'.
As much as 20 inches of snow is predicted to fall across the UK tomorrow as Storm Emma makes her way closer to Britain.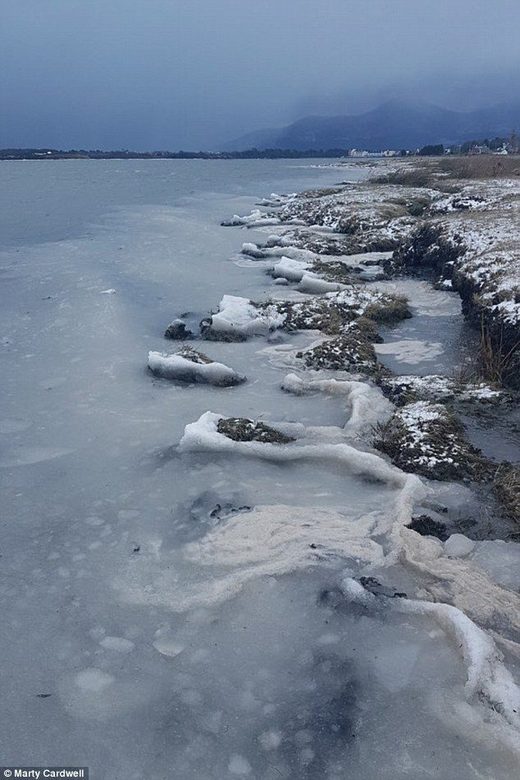 The warning read: 'A spell of heavy snow is expected to move north across Southwest England and Wales through Thursday afternoon and evening.
'Some places could also see significant ice build up overnight into Friday. The snow is likely to be accompanied by strong easterly winds.
'Long delays and cancellations to public transport is expected, whilst some roads may become blocked by deep snow, stranding vehicles and passengers. Long interruptions to power supplies and other utilities are likely to occur.'
So far at least 10 people are known to have died as a result of the harsh wintry conditions.
Ms Cook, of the Environment Agency, added: 'We will issue flood alerts and warnings as needed so please check
www.gov.uk/check-flood-risk
for the latest advice or call 0345 988 1188.'