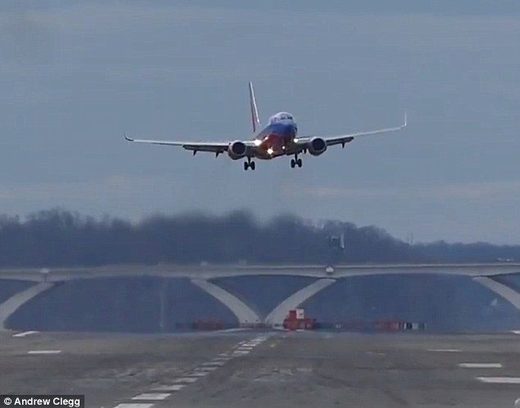 Passengers on planes landing in Virginia on Friday coped with stomach-turning turbulence amid powerful winds. "I've never experienced anything like that," one passenger said. "I felt like I was just going to throw up all over the place," another said. News4's Mark Segraves reports.
Passengers and pilots on a United Airlines flight bound for Washington Dulles International Airport were in for a sickening surprise Friday, when a windstorm caused severe turbulence.
Nearly everyone on the flight vomited, according to an urgent report filed with the National Weather Service's aviation center.
"Very bumpy on descent. Pretty much everyone on the plane threw up," the report said.
The pilots themselves were not spared.
"Pilots were on the verge of throwing up," the report read.
United Express Flight 3833 was scheduled to leave Charlottesville, Virginia, at 6:30 a.m. During the small, 50-passenger plane's descent into Dulles, strong winds caused a bumpy ride and made people sick.
"A few customers onboard the regional jet became ill as the aircraft was preparing to land," United said in a statement.
"The aircraft landed safely and taxied to its gate. No customers required medical attention because of the turbulence."
United declined to say how many passengers got sick.
The plane arrived at Dulles at 7:19 a.m., about nine minutes ahead of schedule, according to the United Airlines website.
There were no reported injuries, except perhaps emotional scarring.
More than a dozen flights out of Dulles, in Northern Virginia, were canceled Friday as a nor'easter slammed the East Coast.
Thousands of flights were canceled across the country
.
Airline passengers at Ronald Reagan Washington National Airport also had stomach-turning flights on Friday.
As a flight from Orlando approached the runway amid strong winds, the pilot aborted the landing and tried a different runway.
"I felt like I was going to throw up all over the place," passenger Casey Kirk told NBC News. "Somebody in the back threw up.
Lots of people were throwing up in bags. It was pretty crazy."
Passenger John Kirk said it felt like the plane was moving sideways.
"I've never experienced anything like that," he said. "The guy in front of me, whose seat I was holding, was throwing up for like five minutes."