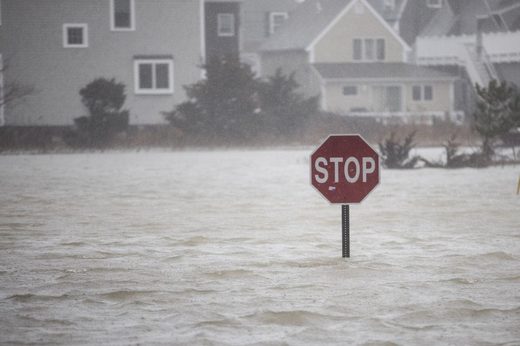 Residents along the East Coast on Friday battened down as heavy rain and gusting winds pummeled states from Maine to North Carolina.
The Nor'easter was predicted to bring damaging winds - up to hurricane strength in some areas - along the Atlantic through Friday,
according to the National Weather Service
, which issued numerous severe-weather warnings and advisories lasting into Saturday.
At least six people were killed when fierce winds brought trees crashing down on roads, homes and other buildings.
In the Putnam Valley area north of New York City, an
11-year-old boy was killed
when a tree fell on a home, officials said. In Newport, R.I., a
72-year-old man
was killed by a falling tree. In Baltimore County, Maryland, a
77-year-old woman was killed
when a branch fell on her outside of her home. A
44-year-old man was killed
in James City County, Va., when a tree branch fell on a car he was in. And in Chester, Va., a
six-year-old who was asleep in bed
was killed when a tree came crashing down into his family's home. And in Connecticut,
one person was killed in a car
near the Stamford-Greenwich line.
Nearly two million people up and down the Eastern seaboard lost power on Friday
:
392,000 in Massachusetts
; 332,538
in Virginia
and part of North Carolina; 323,000
in New York
; 308,164 in
Washington D.C. and Maryland
; 224,242
in New Jersey
;
143,000
in Rhode Island;
120,000 in Eastern Pennsylvania
, and more than 40,000 each
in Connecticut
and
Delaware
.
Throughout the day Friday, at least
3,200 flights at airports between Washington to Boston had been
canceled.
At New York's LaGuardia airport, which suspended all flights on Friday afternoon, 729 flights had been grounded by the end of the day.
In Boston, high tide peaked Friday morning at 14.67 feet,
the third-highest level since record keeping began in 1928
, with water lapping at the feet of skyscrapers in some districts, according to
the Boston Globe
. The next high tide, at midnight, was forecast to be even higher, threatening to break the record set by historic floodwaters in January.
Portions of New York received more than a foot of snow Thursday night.
Syracuse University canceled a full day of classes
because of snow for only the third time in its history.
Meanwhile, more heavy rain was predicted for coastal areas from New Jersey to eastern Massachusetts, the Weather Service said, as it warned of coastal and inland flooding.
In New Jersey, the vacant former Trump Plaza Casino, which shuttered in 2014, was
badly battered by the storm
as gusts as high as 60 miles per hour ripped two 20-foot chunks from the building's exterior.
On Friday, the winds in Boston kept people fighting with their umbrellas; most just pulled their hoods closer. A woman walking and texting in front of the John F. Kennedy Federal Building on New Sudbury Street almost lost her blue-flowered umbrella and her balance to a particularly strong gust. Despite the weather, some die-hard bikers still pedaled to work, and a couple even kept to their morning jog.
It was a terrible day to be a tourist. The courtyard of Faneuil Hall was deserted, and many of the city's biggest attractions were closed.
Michael Thompson of Arlington, Mass., had made it all the way to the vast doors of the New England Aquarium with his wife, their daughter and three grandchildren from New Hampshire - before realizing it wasn't open. Water from Boston Harbor lapped against the edge of the aquarium's Imax theater with every gust of wind.
"Now, we'll have to check on the Children's Museum," Thompson told his soaked clan. But that museum was closed, too. He suggested the Museum of Fine Arts next, but was overruled by 6-year-old Aubrey Roberts, who preferred a play space near her grandparents' house.
Blake Roberts, Thompson's son-in-law, was annoyed that an indoor attraction would be closed in the rain. He was told the aquarium had closed out of concern that some patrons would have trouble getting out.
"Get a bigger car," said his wife, Joanna Roberts.
"Get a duck boat," her father added.
Hopeful visitors kept turning up at the aquarium, only to be disappointed. Its nearby garage had sandbagged its entrances. The street in front of the Marriott Long Wharf next door had flooded, a crosswalk hidden under a rush of water.
Law enforcement agencies in the greater Boston area warned residents about roads that were impassable because of flooding or downed power lines.
Coastal Massachusetts was set to bear the brunt of the storm, with hurricane-strength winds in excess of 70 mph predicted for several areas in Cape Cod.
By early Friday afternoon, several roads were shut down around the Cape, including Massachusetts Route 6A in Brewster, a major thoroughfare that often floods when waters from the nearby marsh begin to rise. The boardwalk in Sandwich, Mass., a popular destination, was nearly underwater.
There are few areas of Cape Cod that are more vulnerable to the lashings of tide and wind than the quaint town of Chatham, which lies at the elbow of the peninsula, exposed to the elements from the east and south. For the past two days, public works employees have hauled in tons of sand to protect some of the most vulnerable landings that dot the shoreline, and that serve as conduits for the floodwaters that over wash local streets during such storms.
But Theodore L. Keon, director of coastal resources for Chatham, was under no illusions about stopping nature in its tracks, calling the fresh heaps of sand little more than "sacrificial nourishment" for the water rushing ashore. The Chatham area has already been hit by two severe storms this winter, most notably the one on Jan. 4, but Keon expected this one to be even worse.
"I'm concerned mostly because of the duration of this event," Keon said Friday. "The last two January storms, while significant in terms of water elevation, were of fairly short duration. When you've got a storm like this that sits off the coast and you've got the constant pounding of the waves and high water because it's not receding, that's potentially more significant. Three or maybe even four high-tide cycles can really cause a lot of damage."
Others on Cape Cod, where fierce winter gales are a fact of life, were inclined to take things in stride.
"For most of us who've been here for many years, this is just another storm," said Andrew Crosby, who runs the Dennis Public Market on Route 6A. "We're Cape Codders, we're used to it."
Which is not to say that daily routines are completely unaffected during such events.
"We sell a lot more bread than normal, a lot more dairy - and a lot more snack foods," Crosby said Friday afternoon. "Cookies were hot yesterday. People want that sugary food, and then they want to sit there and watch the storm on TV and go with the flow."
In Marshfield, a coastal town about 30 miles southeast of Boston, a
state of emergency had been declared
ahead of the storm. On Friday, a number of streets were still impassable nearly two hours after high tide.
Marshfield residents Kevin and Cindy Hufnagle decided to take a walk to see for themselves what they'd been watching on television. They were grateful that they still had power, and that there wasn't any snow to shovel.
"We've lived here almost 35 years,"
Kevin Hufnagle said. Nearby, crashing waves looked to be as tall as the two-story bungalows they sprayed.
"We've never seen it that bad before."
The Hufnagles said they'd seen cars driving in circles trying to find a safe route out of the area and they were worried about what Friday night's high tide would bring.
In Duxbury, Mass., just south of Marshfield, the Snug Harbor Fish Company saw a slow but steady stream of customers buying salmon, mussels and chowder, despite the storm.
"I love that you're open!" one customer exclaimed.
"This is New England," owner Diana Shannon answered. Shannon has owned the cafe and market since 1997 and had never seen water out in front of her store until the "bomb cyclone" storm in January. The water returned Friday, nearly waist deep alongside her shop.
"You just pray," said Shannon, whose husband is a commercial fisherman. "We moved everything, battened down everything."
Shannon wasn't sure yet whether she'd come back to the shop around midnight to watch the water approach again, or stay at home and "toss and turn and wait until 6 a.m. and then come in. My gut is we'll be fine."
A block away, the Duxbury Bay Maritime School sits right on the water. Normally, the nonprofit hosts children and adults learning how to sail, paddle board, kayak and appreciate marine ecology. But Friday afternoon, the back windows faced a white-capped sea, while the wind howled and gusted.
"You certainly have to respect the sea," the school's director of marketing, Ali Dimatteo said.
After making sure all the school's equipment was safe, Dimatteo and a handful of other senior staff members took advantage of the opportunity Mother Nature had given them. One steered a paddle boat through the parking lot; others briefly maneuvered a dinghy out into the bay, confident that the strong winds would blow them back to shore.
Dimatteo said she'd be broadcasting on Facebook Live at midnight in case anyone was concerned about the school.
In the Washington area, high winds
wreaked havoc on the Friday commute
. A pilot landing at Dulles International Airport Friday morning reported a "very bumpy" descent in the high winds.
"PRETTY MUCH EVERY ONE ON THE PLANE THREW UP," the official
pilot report stated
. "PILOTS WERE ON THE VERGE OF THROWING UP."
Numerous downed trees were reported in local neighborhoods and roads in the Washington area.
The Office of Personnel Management announced that all federal offices in the Washington area would be closed Friday. Nearly two dozen area school districts canceled classes, and the
Smithsonian museums and zoo were closed for the day
.
At the Washington Monument, where flags had been flying at half-staff to honor the Rev. Billy Graham, at least half a dozen flags
appeared tattered by the wind
.
The snow and rain were predicted to taper off by late Friday or Saturday morning as the storm system drifted farther out into the Atlantic Ocean, the National Weather Service said.
This post has been updated. Hewitt reported from Dennis, Mass. Wang, Rosenberg and McMillan reported from Washington.