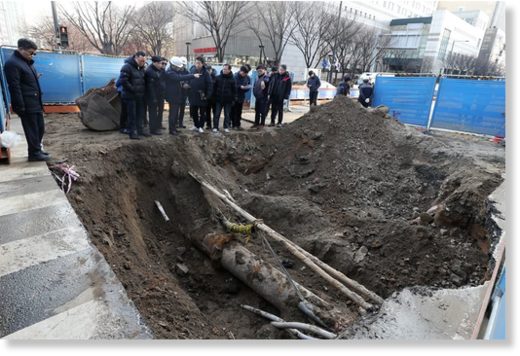 A sinkhole 12 meters wide has appeared on a road near Intercontinental Seoul COEX in southern Seoul, firefighters said Friday.
According to firefighters, the hole was reported at around 10:31 p.m. on Thursday by a person who saw smoke coming out of it.
A rupture in a concrete sewer pipe was the cause, firefighters said.
There have been no reports of injuries or traffic accidents caused by the hole.
But the hole caused traffic jams and safety concerns.
Firefighters said hot water (70C or higher) from the pipe created the hole.
Sinkholes are formed after the surface layer sinks due to an empty space underneath it.
Erosion underground usually causes them, but many of those recently found in Korea's big city districts were caused by nearby construction.
The Korea District Heating Corporation will look into what caused the pipe damage.