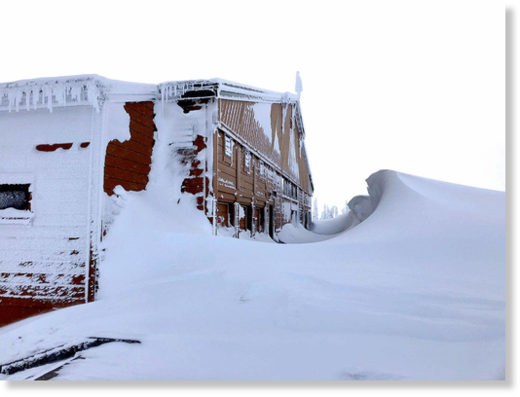 Too much of a good thing kept the Hurricane Ridge Road closed Friday and Saturday,
with more snow predicted this week.
More than 9 feet of snow — 112 inches — was measured at 8 a.m. Saturday at the Ridge snow stake, according to the park road and weather phone line at 360-565-3131.
The road was closed Friday as park crews worked to clear it and the Ridge parking lot — where high winds sculpted snow into 14-foot drifts — of heavy snowfall, according to park spokeswoman Penny Wagner.
It remained closed at the Heart O'the Hills entrance station on Saturday because of heavy snow and high winds, according to the recorded message on the road and weather line.
The Ridge was experiencing sustained winds of 25 mph to 30 mph with gusts above 50 mph on Saturday, the park recording said. Avalanche danger was considerable.
More mountain snow is predicted next week,
while rain is expected in the lowlands, according to the National Weather Service.
The record amount of snow at the Ridge was 62 feet in the winter of 1998-99, according to Olympic National Park.
During the winter season, Hurricane Ridge Road is open to uphill traffic from 9 a.m. to 4 p.m. Friday through Sunday and holiday Mondays, weather and road conditions permitting.
Those who plan to drive the 17-mile road the climbs to 5,242 feet at the ridge from Port Angeles are required to carry chains and should be prepared for winter driving conditions, Wagner said.