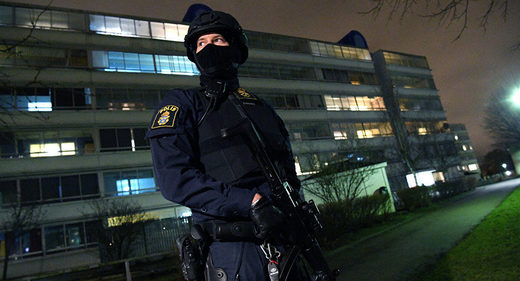 Despite its traditional reputation as a safe haven, Sweden has seen a dramatic increase in deadly shootings in recent years.
Swedish authorities have decided this is due to the proliferation of guns, and are preparing a new arms amnesty, the fourth in just two decades;
it held the last one in 2013.
The number of deadly shootings in Sweden has surged in recent years.
In 2006, only eight of them occurred throughout the country, as opposed to 43 in 2017, indicating a more than five-fold increase; there were twice as many shootings last year as there were in 2016.
Police officers themselves testify to a "tougher climate" in criminal circles, where members are described as being more "easily offended" than they used to be. The effect of the shootings is comparable to a spiral effect, in which
criminals constantly resort to increasingly tougher violence in order not to appear as weaklings.
A conflict between two gang members can therefore easily escalate into a bloody feud between criminal networks.
"They are taking to firearms to avoid showing weakness. It has become important to build up one's criminal reputation - a sort of 'scare capital' - in the criminal environment. Previously, one could allow abuse to pass without taking to violence like today," Daniel Vesterhav, a criminologist at the Crime Prevention Council (Brå), told Swedish national broadcaster
SVT
.
Jerzy Sarnecki, one of Sweden's leading criminologists, attributed this violent subculture to the country's "disadvantaged suburbs" or ghettos, where the mentality of "an eye for an eye" thrives.
Another change is that criminals used to instantly get rid of the weapons they used. Now, the weapons remain in the criminal environment as long as they don't break or are seized by the police.
To stop the proliferation of firearms throughout Swedish society, the authorities will start a three-month "arms amnesty" in February. Those who voluntarily submit their guns during amnesty will remain anonymous and won't be penalized for their possession.
According to Joakim Norenhag, the project leader for the amnesty, reducing the illegal possession of firearms may decrease their use in criminal contexts.
"Compared to legal weapons that are licensed, there is a much higher risk that illegal weapons will be used in crimes with malicious intent. These are weapons that are often kept inadequately, tucked away or hidden in attics and outbuildings, for example" Joakim Norenhag said, as quoted by the
Örebro Tribune
.
If the authorities are unable to locate the registered owner within a month, the firearms will be sent to the National Forensic Center for investigation, and rare and special arms will be handed over to museums.
Previously, three limited arms amnesties were carried out in Sweden. In 1993, 17,000 weapons and 16,000 tons of ammunition were collected, followed by 13,835 weapons and 14 tons of ammo in 2007 and 15,132 weapons and 36 tons of ammo in 2013.
Explosives, the illegal use of which has also recently become a problem in Sweden, won't be covered by the firearms amnesty.
However, the Swedish government is currently considering a
special amnesty
for hand grenades,
which would take place between mid-October 2018 and January 2019 to counter the spread of explosives.
Recent police research indicated a growing trend of hand grenade use in criminal circles. Just several years ago, there were only a few hand grenade detonations recorded every year in Sweden. Now it's several per month.
In early January, a hand grenade explosion in Stockholm killed a 60-year-old man and injured a 45-year-old woman.