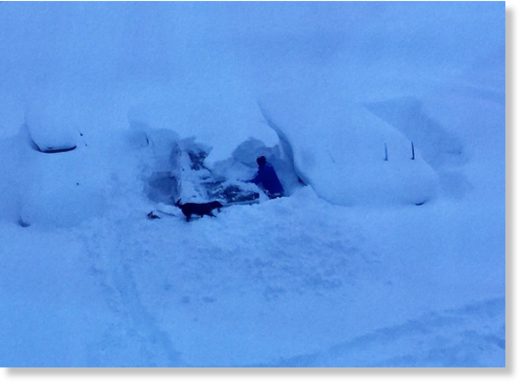 In addition to
widespread power outages
across British Columbia's Lower Mainland due to high winds, Mount Washington was closed Sunday as more than a metre of snow fell in a 24 hour period, raising the avalanche danger rating to high.
As a result of the massive amount of fresh powder, Mount Washington Road was closed from the resort to the junction of Highway 19, according to Drive B.C.
Meaghan Barker of Victoria, is one of many people who are stuck in the area. She arrived Thursday night and is staying in a cabin on a road called Fosters Place with her parents, husband and daughter.
"I don't think I've ever seen this much snow, especially in two nights," she told The Weather Network Sunday. "On Friday morning when we were snowboarding it was great. The snow was really coming down. On Saturday, my husband went out again and we went tobogganing with the kids and then Saturday night the heavens unleashed."
While the Barker family knew the snow was coming, they didn't think it was going to be this excessive.
"We dug out the car six times only to be buried, like invisible over and over, and over."
Video below was taken by Barker around 5 a.m. local time Sunday. The local streets were plowed Saturday evening, but overnight she estimates another 100+ cm fell.
"It was madness. I couldn't believe how high it was," she said. "The neighbours all started digging the streets to at least try to get to each other."
The plows are unable to the family's cabin as several vehicles remain stuck on Henry Road, which intersects with Fosters Place, according to Barker.
"As far as where we are, we're sort of hooped until they get those cars cleared," she said. "Cars were waiting from what I heard from friends leaving the mountain yesterday, for like five hours trying to get down the mountain."
Fortunately, the snow has stopped. However, Barker anticipates her family will be trapped for another day or so.
In terms of supplies, the Victoria resident says the family has enough food for one more day.
"Tomorrow it will become more of a problem. I don't know how prepared everyone is up here. If there was any sort of medical emergency, I don't know how you'd get to anybody."
Barker said she is unable to reach the chalet.
"Just make sure you don't come up here unless you have chains or a 4x4, or until they tell you. I know on the online forum people are upset, but it's not safe."