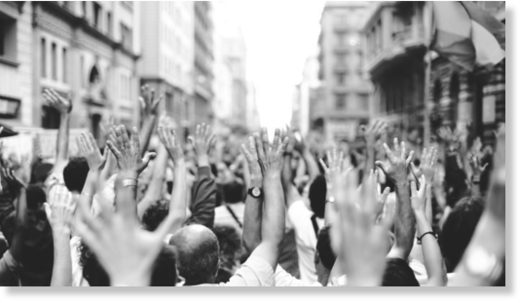 While the establishment may breathe a sigh of relief looking back at political developments and events in Europe - which was spared some of the supposedly "worst-case scenarios" including a Marine le Pen presidency, a Merkel loss and a Geert Wilders victory - in 2017, any victory laps will have to be indefinitely postponed because as Goldman writes in its "Top of Mind" peek at 2018, Europe's nationalist and populist tide was just resting, and as Pascal Lamy, the former Chief of Staff to the President of the European Commission admitted earlier this year, "
Euroskeptic politicians are largely following the pulse of domestic sentiment. The fact is that the public is less enthusiastic about Europe than it once was.
"
Echoing the sentiment by the europhile, Goldman's Allison Nathan writes that while the Euro area's most immediate political risks-i.e., populist or euroskeptic parties winning key elections this year- did not materialize, these movements have continued to gain traction.
In the Dutch elections in March, the far-right Party for Freedom performed worse than polls had once predicted, but still increased its share of the vote relative to the 2012 elections. It remains the second-largest party in parliament.
In France, concerns about the prospect of Marine Le Pen winning the presidency gave way to optimism over Emmanuel Macron's reform agenda; nonetheless, Le Pen posted the best-ever showing for her party in a presidential race.
In Germany, Chancellor Angela Merkel's CDU-CSU retained the largest number of seats in the Bundestag, but the far-right Alternative für Deutschland (AfD) entered it for the first time with 13% of the vote.
And elsewhere in Europe, populist parties on various parts of the political spectrum performed well enough to participate in government coalitions; indeed, an anti-establishment candidate in the Czech Republic recently became prime minister
Some other observations and lessons from recent European events in the twilight days of 2017:
The transition from campaigning to governing has proved difficult. Europe's increasingly fragmented political landscape has made coalition-building challenging. In the Netherlands, it took over 200 days to form a government with only a single-seat majority. Similarly, German coalition talks with the Green party and the Liberal (FDP) party collapsed in November. But, after having planned to move into the opposition, the SPD-Merkel's former coalition partner-decided at its congress last week to open talks with the CDU-CSU. Talks were set to begin this week.
Other sources of uncertainty remain unresolved. Spain continues to grapple with the standoff between Madrid and Catalonia; regional elections in Catalonia on December 21 will influence the trajectory of the situation. Meanwhile, the UK and EU-27 seem likely to agree to move past the first phase of the Brexit talks (covering separation issues). But in a setback for UK Prime Minister Theresa May, UK lawmakers recently voted for an amendment to the Brexit bill that will guarantee Parliament a vote on the final deal agreed with the EU.
The decline in political risk bolstered European assets, though fundamentals likely played a decisive role. The market-friendly outcome of the French elections dovetailed with a pick-up in European growth, supporting European equity markets. US inflows into European equities rose significantly but have since stabilized with the acceleration in growth and the decline in the risk premium likely behind us. Receding political risks also contributed to a stronger euro, which is up 12.5% against the dollar this year. Given the currency move, the SXXP is up roughly 7.5% in local terms and 20.6% in USD terms year-to-date.
Next, here's what Goldman expects and will look for in 2018 and beyond:
A continuation of the populist pull. The socioeconomic and cultural factors driving public opinion are unlikely to dissipate. Indeed, they may come into greater focus if growth moderates on a sequential basis starting in mid-2018.
Constraints to further fiscal integration. Opposition to fiscal transfers within the Euro area makes incremental revisions to existing EU programs more likely than transformational change. Key to watch will be Macron's credibility as a champion of integration, which will hinge on his ability to push through reforms in the face of political and economic constraints.
Risks around Italian elections set to take place in March. Polls show the largest populist party, the 5 Star Movement (M5S), leading with roughly 27% of the vote. However, the new electoral law and M5S's unwillingness to join a coalition suggest a centrist coalition is most likely. Such a government, while pro-EU/euro, would likely struggle to implement reforms.
An eventual resolution of political issues in Germany and Spain. We believe Germany's major parties will work to avoid new elections, given limited public appetite for a new vote and the risk of AfD gaining more seats in parliament. In Spain, economic and policy uncertainty could persist, but in our view, it is not likely to have lasting or systemic implications. Eventually, we expect a compromise that grants Catalonia greater autonomy within Spain.
A bumpy road to Brexit. Expect the UK and EU to eventually agree to a two-year "status quo" transition plan.
And finally, here is a map showing where the forces of populism are expected to remain strong - and grow - across the continent.