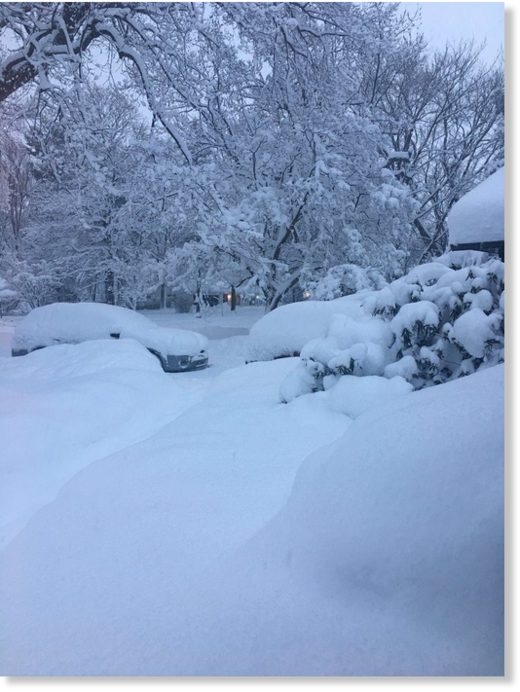 OK, this is taking "White Christmas" a bit too far.
The National Weather Service in Cleveland reported the lake-effect snowfall that inundated Erie over the weekend and Christmas — and continues to fall — can now count itself as the most intense in Pennsylvania history.
Erie received 34 inches of snow on Christmas Day, not only breaking the all-time city Christmas record of 11 inches but also breaking the all-time daily snowfall record, which was 20 inches on Nov. 22, 1956.
Erie, #PA got 34 inches, yep you read that right-- 34' of #snow in just 24 hours on Christmas Day. That is the most snow they have ever recorded in a single day and snow is still falling in the city. pic.twitter.com/62E556pIBb

— AMHQ (@AMHQ) December 26, 2017
From midnight to 6 a.m. today, Erie received another 19 inches
,
making the storm total 53 inches, far and away the highest two-day total in Pennsylvania history
.
The previous record was 44 inches in Morgantown, Pa., From March 20-21, 1958.
Some more tidbits from the National Weather Service:
- The 34 inches in 24 hours also was more than the highest three-day snowfall in Erie history — 30.2 inches from Dec. 29-31, 2002.
- It fell just shy of the highest seven-day total of 39.8 inches set from Dec. 27, 2001 to Jan. 2, 2002.
-
December 2017 has been the snowiest month in Erie's history, with 73 inches (and counting).
The previous record was 66.9 inches in December 1989.
- 53 inches also beats Erie's previous 13-day snowfall record of 52.8 inches from Dec. 31, 1998 to Jan. 12, 1999.
The city of Erie declared a
snow emergency Tuesday morning
, GoErie.com reported.
It won't stop there.
The National Weather Service, which has a lake-effect snow warning ongoing through 4 p.m. Wednesday, is calling for an additional 8 to 16 inches of snow around Erie, falling at rates of up to 3 inches per hour in some cases.
Check out some images of the madness:
@weatherchannel BIG Snow in Erie PA pic.twitter.com/66tWkeDZYD
— IamERIEottersSTRONG (@ErieHockey1026) December 26, 2017
Erie International Airport is closed because of snow. Only one flight cancelled so far. @JET24FOX66 live camera: https://t.co/gFv7EVTPiB pic.twitter.com/Ile3R3Ik8z
— Alex Yoder (@AlexYoder) December 26, 2017
Dear Everyone in the Erie Area,I'm sorry for dreaming of a white Christmas. I mean I wanted it to snow on Christmas, but not like this. Not like this pic.twitter.com/hwWmrdqyyZ
— Will (@WillSwagler) December 26, 2017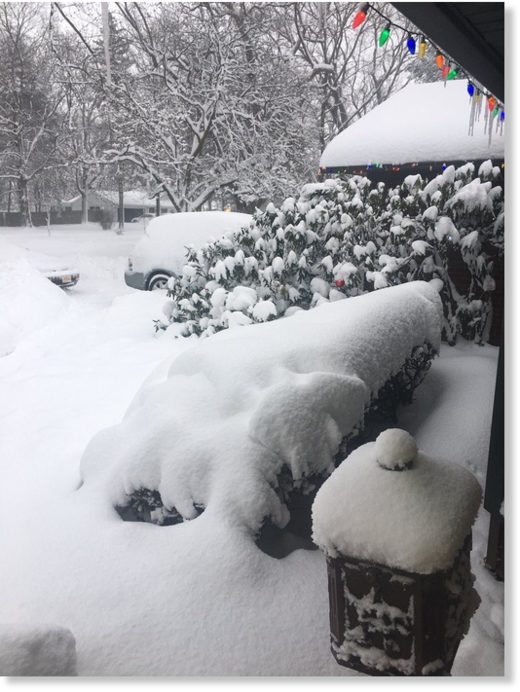 Record snowfall in Erie today ... more than 11 inches of snow and more on the way! #winterwonderland #lakeeffect #Erie pic.twitter.com/UaqI8qQpMf

— Jill McCormick (@JillMcCormick2) December 26, 2017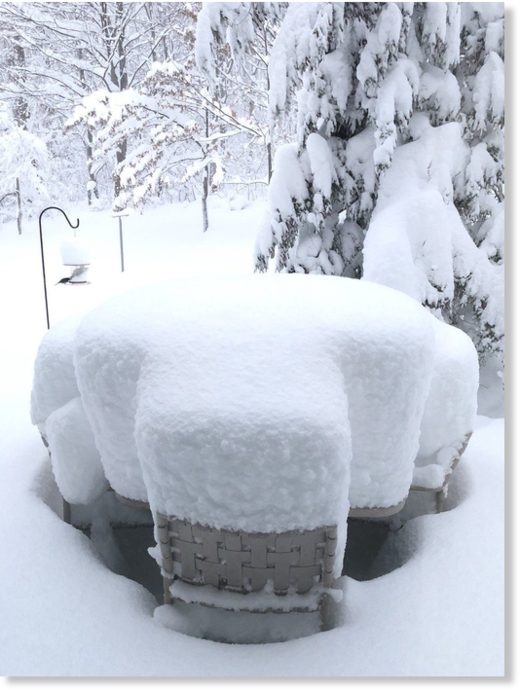 I grew up in Erie, PA but have never seen snow like we've had here in the last 24 hours. It's crazy that there's hardly any back in Cleveland right now. Here's the obligatory patio table photo. pic.twitter.com/13CuOTwnf3

— Mike Richwalsky (@mrichwalsky) December 26, 2017
@WKRN here is a pic from my friend in Erie county, PA this morning pic.twitter.com/J9onEWoCJN

— Shannon DutchessNeal (@mamadutchess) December 26, 2017
Crazy snow situation in Erie PA. My parents driveway was plowed last night - this is 7a this morning.
pic.twitter.com/hPu1WtnanQ

— Courtney Powell (@moderncreative_) December 26, 2017