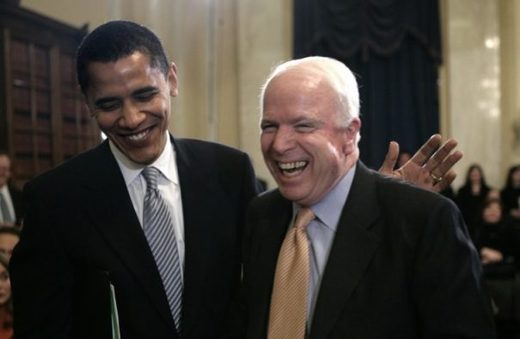 Republican Senator and long-time warmonger John McCain is now viewed more favorably by Democrats and Independents than by his own party, according to a
new poll from SSRS
.
68% of Democrats said they had a favorable opinion of the Republican senator, whereas 48% of Independents and 46% of Republicans responded the same way. 30% of those polled said their opinion of McCain was unfavorable.
McCain's new found fanbase in the Democratic Party
could be from his association with the fake and now debunked "Trump Dossier."
The Duran
reported
last January that McCain was in fact the one that leaked the now infamous 'dossier' - still considered factual by most Democrats. Or maybe it was when McCain voted against the GOP's attempt to repeal ObamaCare, effectively dooming the legislation.
To show further of how out of touch the Democratic Party is from their own constituency and the general public, so much that they approve of John McCain, the same polling agency
reported
in November that
views of the Democratic Party had hit their lowest point in a quarter century
- with only 37% of Americans having a favorable opinion of Democrats, down from 44% in March of 2017. A majority, 54%, have an unfavorable view, matching their highest mark in polls from CNN and SSRS, CNN/ORC and CNN/USA Today/Gallup stretching back to 1992.
The rating includes low favorable ratings from some core Democratic groups, including non-whites (48%) and people under 35 years old (33%). The numbers come amid recent feuds and divisions in the Democratic Party, as former interim chair Donna Brazile's new book has
unveiled new questions
about infighting during the 2016 presidential campaign.