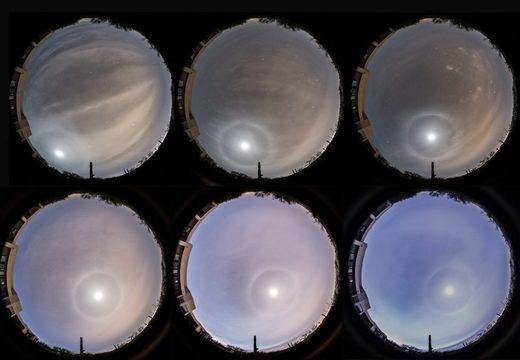 Halos around the sun or moon are caused by ice crystals, like those in high cirrus clouds. Sometimes you can't see clouds, but - in these photos - you can.
Eliot Herman is Tucson, Arizona has been working all year to compile a series of images of
every major meteor shower in 2017
. So last weekend, as this week's
Geminid meteor shower
was rising to its peak, he had his automatic camera set-up running all night. You can see one result in the images above. He didn't catch a Geminid (although he did catch a random meteor, which
exploded as it fell
). But he caught something equally wonderful, a long-lasting halo around the moon.
Eliot said the halo lasted from 2 a.m. to dawn. You can see twilight coming up in the bottom right image. Then, he said, the halo just: "... blinked out."
Thank you, Eliot!
By the way, it must be lunar halo weather in Tucson.
Check out this interesting halo photo
, also by Eliot Herman, from late November.
Bottom line: Series of photos of a long-lasting lunar halo over Tucson, Arizona, December 9, 2017.