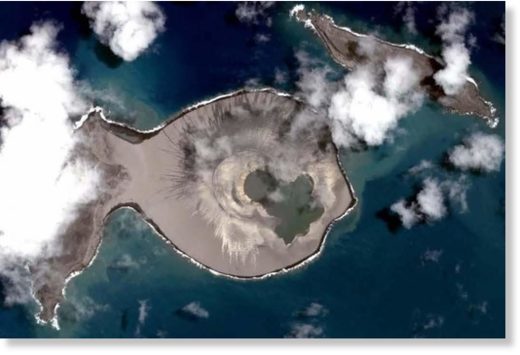 An incredible timelapse video released by NASA shows a new island being formed after a submarine volcano eruption in the Tonga.
Hunga Tonga-Hunga Ha'apai, which is made up of a volcanic ash, could now remain for up to 30 years, according to a study by the space agency.
The new land mass, which has a 400ft (120m) summit, was created after an eruption lasting from December 2014 to January 2015 and was initially predicted to last a few months.
The new study said the island, which is the first of its type to persist in the modern satellite era (post-1978), offers a "first step to understand erosion rates".
"Volcanic islands are some of the simplest landforms to make," said first author Jim Garvin, chief scientist of NASA's Goddard Space Flight Center in Greenbelt, Maryland.
"Our interest is to calculate how much the 3D landscape changes over time, particularly its volume, which has only been measured a few times at other such islands.
"It's the first step to understand erosion rates and processes and to decipher why it has persisted longer than most people expected."
Scientists tracked the island from its beginning taking monthly, high-resolution satellite observations.
Using this imagery, the research team made three-dimensional maps of the island's topography and studied its changing coastlines and volume above sea level.
From these, they projected the mass could exist for between six and 30 years, depending on the rate of erosion caused by strong waves battering the island.
The uncertainty around the island's lifespan reflects the differing rates of erosion witnessed in the first six months, which was accelerated, versus later when it was more moderate.
The Tongan island may also help researchers understand volcanic features on Mars that look similar.
"Everything we learn about what we see on Mars is based on the experience of interpreting Earth phenomena," Mr Garvin said.
"We think there were eruptions on Mars at a time when there were areas of persistent surface water. We may be able to use this new Tongan island and its evolution as a way of testing whether any of those represented an oceanic environment or ephemeral lake environment."
Their analysis was presented at the American Geophysical Union Fall Meeting in New Orleans on December 11.