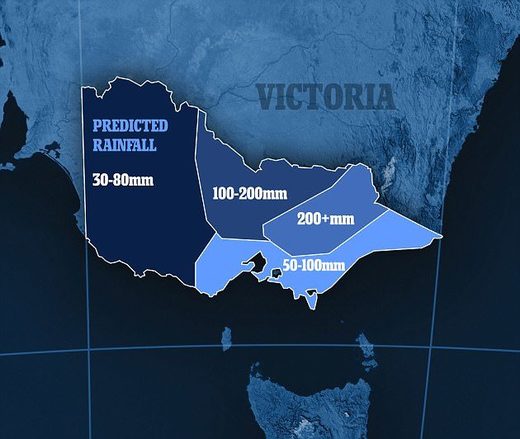 The towns of Myrtleford and Euroa in northeast Victoria have been told to prepare to evacuate after the area received a season's worth of rain in a day.
Locals are preparing by sandbagging their homes while some have already fled as rivers and creek swell.
Premier Daniel Andrews urged all Victorians to stay vigilant and look after each other, particularly those in the flood-threatened centres.
'Some of these rainfall totals we've seen are well and truly an entire summer's rain almost in just a 24-hour period,'
he told reporters in Melbourne.
Among the flooded streets, an expensive Maserati luxury sports car was spotted trapped in floodwaters on Dudley Street under a rail bridge.
The low-lying spot is notorious for trapping vehicles in Melbourne during spells of rainfall.
'That is unprecedented and it really has put a significant strain on many different communities,' Mr Andrews said.
'Make that phone call, look out for loved ones and be as well informed as you possibly can.'
Residents have already been evacuated from a number of towns, and thousands more are bracing to leave before the weather worsens again.
Victoria's northeast and alpine regions have copped the heaviest rainfalls so far, including 200mm at Strathbogie and 170mm at Euroa.
Emergency financial relief has been offered to residents who have been forced to leave their homes, according to the
Herald Sun
.
Up to $540 per adult and $270 per child is being offered.
Two relief centres have also opened at Myrtleford and Eurora offering shelter for residents and their pets.
Major flood warnings are in place for the Ovens and King rivers and the Seven and Castle creeks, while there are moderate warnings for the Goulburn and Kiewa and rivers.
Several major roads have been closed in Melbourne and Victoria as a result of the rain, including parts of the Hume Freeway.
The rainfall had eased in most areas on Saturday morning but the Bureau of Meteorology warns it is likely to pick up again in the evening.
Steady drizzle fell across Melbourne overnight but senior forecaster Rod Dixon said city hadn't been as wet as it could've been.
'In Melbourne we did escape the worst of it,' he said on Saturday.
'The rainfall guidance was suggesting Melbourne would potentially cop some of those couple of hundred millimetre falls.
'As the situation's developed those heavier totals have been a bit further east. Nevertheless we still had some reasonably heavy totals.'
Mr Dixon said the metropolitan area has recorded between 20 and 40mm of rain and about the same is expected on Saturday.
'If we get that, that's generally over a month's worth of rain over a couple of days,' he said.
Low lying areas around Myrtleford in Victoria's alpine region were ordered to evacuate on Friday night as floodwaters rose.
Emergency Services Commissioner Craig Lapsley reminded people to remain vigilant into Saturday as more rain is forecast.
The SES received more than 1500 calls for help on Friday and hundreds more overnight.
Victorian Premier Daniel Andrews said people needed to use common sense and look out for each other to 'get through this very difficult period.'
The premier spoke to Prime Minister Malcolm Turnbull, who offered the state federal assistance should it be needed.
Many Melburnians have stayed heeded warnings to stay inside this evening, and many have taken the option of ordering dinner in.
Mobile food delivery service UberEats is no longer accepting orders due to high demand.
An elderly couple became trapped in their car in floodwaters near Seymour on Friday night, rescued by a farmer in a tractor who plucked them to safety.
The rain has lead to the cancellation of a number of major events, including the Great Victorian Bike Ride and Taste of Melbourne.
More than 1,500 riders remain stranded at a Maffra campsite on Friday with plans to transport the group back to Melbourne and Trafalgar over the weekend.
Bicycle Network CEO Craig Richards said they were committed to the safety of their riders and organisers.
'We're very disappointed that we can't continue riding but the wellbeing of our riders, volunteers and wider team always comes first,' Mr Richards said.
Kirby Spencer For Daily Mail Australia