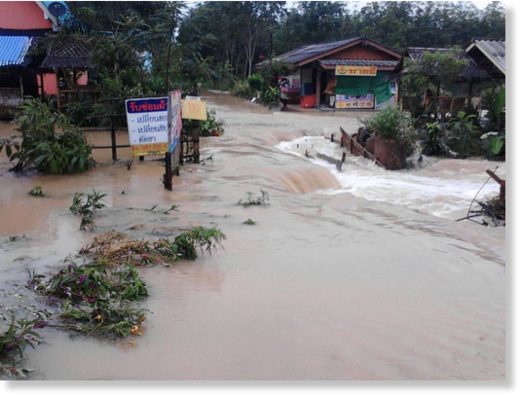 Flooding has affected parts of southern Thailand since 25 November. Heavy rain has triggered rivers to overflow and flash flooding.
According to Thailand's The Department of Disaster Prevention and Mitigation (DDPM), the floods have affected the provinces of Phatthalung, Trang, Nakhon Si Thammarat, Pattani, Songkhla, Narathiwat, Yala, Satun and Surat Thani.
Flooding has affected a total of 74 districts, 113,900 households, and 385,498 people. DDPM said that at least 5 people have lost their lives in the flooding.
The deaths occurred in Songkhla (2), Pattani (2) and Yala.
A number of provinces have declared disaster zones in various districts. The Department of Disaster Prevention and Mitigation is working with the Royal Irrigation Department to synchronize the water discharges in order to minimize damage.
As of 29 November, affected areas of Satun province were showing signs of recovery, with flood water receding. However, more rain has been forecast for southern areas.
Flooding and heavy rain has also been affecting neighbouring areas of Malaysia during the same period, where
at least 2 people have died and 13,000 forced to evacuate their homes.
More rain forecast
The Meteorological Department has forecast that more rain is likely in the South. Low pressure cells from the Malaysian coast are moving into lower southern region and are expected to reach the Andaman Sea on 01 December 2017.
Several areas in the South may experience more flooding, with rough seas and two- to three-meter waves expected in the Andaman Sea.