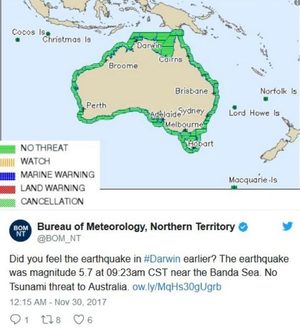 TERRITORIANS felt the earth shake under them today as an earthquake struck in the Banda Sea - more than 700km away.
The 5.7 magnitude quake was felt in Darwin just before 10am.
Geoscience Australia senior seismologist Phil Cummins said the quake was about 160km below the earth's surface and did not pose a tsunami threat.
"It's too small and too deep to be concerned about a tsunami. And we never know about other earthquakes. There might be aftershocks," he said.
He said there had been up to 30 reports from people in Darwin having felt the tremors.
He said it was unusual for an earthquake to be felt hundreds of kilometres away.
However, he said it was not unknown for the effects of earthquakes' to 'carry' in this region.
"It would be surprising for an earthquake to be felt that far away but we know the path between the Banda Sea and Darwin appears to be particularly efficient for the transmission of the seismic waves," he said.
He said he had not heard of any damage to towns in the area in Indonesia where it had hit.