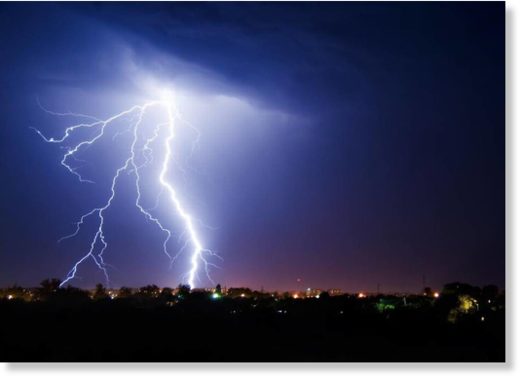 Odisha for third year in succession has topped the country with highest deaths owing to lightning during this year's monsoon.
The State recorded almost three deaths every day.
Notably, while Odisha has emerged as the country's lightning graveyard, Jharkhand has come to be known as top thunderstorm cemetery.
As per the available data with the Met Office, Odisha recorded a total of 173 lightning deaths in just the first two months of the 2017 monsoon period
and alone accounted for nearly 49 per cent of lightning deaths in the country. Jharkhand alone accounted for half of the total thunderstorm casualties nationally.
The worry for Odisha is deaths due to lightning have been the highest this monsoon as the lightning casualties touched the 300-mark during June to September
, and the deaths were reported from as many as 25 districts. For this, the Indian Met Office has put Odisha on the climate change watch list by labelling it as a
'significant' weather event observed in State.
Notably, since 2015, Odisha has been witnessing most lightning deaths in the main monsoon months of June and July vis-a-vis the earlier four-month trend of April, May, August and September
when the State saw around 85 per cent of the country's lightning deaths. In 2017, monsoon months of June and July recorded a whopping 60 per cent of such casualties.
As per the Government data, Odisha recorded around 400 deaths for the years of 2015-16 and 2016-17.
And most deaths occurred in northern and north-coastal parts like Mayurbhanj, Keonjhar, Sundargarh, Angul, Dhenkanal, Baleswar, Jajpur, Khordha, Puri, Ganjam and Nayagarh.
IMD Bhubaneswar Director Sarat Sahu explained why Odisha is witnessing high lightning phenomenon. "Higher the mean day temperature, lower would be the atmospheric pressure, which then triggers rainfall over a landscape provided the moisture level in upper atmosphere is sufficient to aid so. But abnormally-higher mean day temperature would see a deep fall in atmospheric pressure, and such abnormal high-low leads to thunder squalls," he explained.
IMD data for years 2016 and 2017 reveal that the lightning hubs in the State experienced a maximum temperature anomaly in April to the range of 2 degree Celsius vis-a-vis the average of 1901-2000 average April
temperature during heat wave period. Moreover, when Odisha's annual mean temperature anomaly in 2016 was to the range of 0.5 to 1.5 degree C vis-a-vis average of 1901-2000 mean annual temperature; this monsoon the temperature anomaly has been 0.5degC above normal. Data reveal that the State's annual mean temperature has risen by 1 degree C in 2016 vis-a-vis the mean temperature of 1901-2016.
To a warmer Odisha, the dwindling green cover is proving a lethal combo to seed frequent thunder squalls. Weather scientists warn that fewer green cover would result in higher concentration of dust particles in air that impede rainfall and heighten possibility of intense thunder squalls. Adequate green cover has a salutary effect on controlling both dust concentration in air and high temperature by restricting heat insulation (Sun's heat radiation that reaches the earth's atmosphere and surface), observed experts.