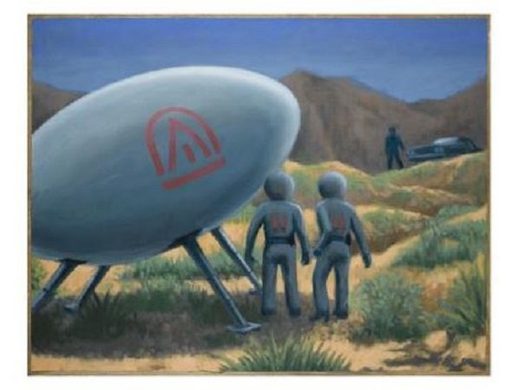 Skimming and perusing Kevin Randle's new book about the 1964 Lonnie Zamora Socorro sighting,
Encounter in the Desert: The Case for Alien Contact at Socorro
, I was (and am) pleased to tell my readers here that it's a book that provides details you've never known or read about the iconic UFO "sighting" along with a slew of other sightings that may (or may not) have relevance to what Police Officer Zamora claims to have seen, in the desert outside Socorro, New Mexico in 1964.
There is little point in my reviewing the book; it's one you need for your collection and edification, and you would do well to grab a copy from Amazon or your favorite bookseller.
Kevin, in this book, like his recent Roswell update, provides everything, and I mean everything, that is known about the Socorro "encounter" - then and now.
While Kevin is objective, as usual, and judicious in his views, I feel, a lean by him, toward the ET explanation for UFOs, even though he makes it clear that the Socorro incident remains unknown (and unexplained).
Ray Stanford, a perpetual UFO gadfly, who has his own book on Socorro, the silly titled
Socorro "Saucer" in a Pentagon Pantry
, is highlighted, skewered and praised.
Mr. Stanford, who operated as a NICAP representative it seems, was rather quick to the Socorro story arriving within a few days of the sighting and inserting himself into the story, then and since.
(His screw up of the Socorro insignia/symbol seen by Lonnie Zamora on the egg-shaped craft, has been covered here, at this blog, numerous times and gets full scrutiny by Kevin.)
Anthony Bragalia's intensively investigated "hoax theory" is covered as well as the "explanation" I like - Zamora saw a military test prototype, both dismissed by Kevin in face of the facts of the incident.
I'm a fan of Mr. Randle, seeking out his blog [
kevinrandle.blogspot.com
] daily and, while inclined to needle him for his early Roswell "adventures," I find his current efforts to clarify noted UFO accounts, like Socorro, to be thorough and objective.
This new book falls into the categories: a must-read and a must have.
(I'll have occasional asides here as time goes on because Socorro, for me, is one of the best witnessed UFO sightings, not ET oriented, but strange in a way that fascinates and Kevin's book will be my source for facts about the episode.)