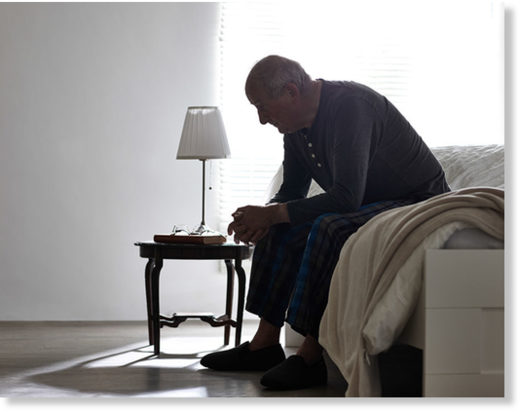 Nine in 10 people believe loneliness in old age is 'more likely than ever', warns a report which reveals the grim reality of the isolation faced by Britain's pensioners.
And the cost to the NHS of dealing with the health problems caused or exacerbated by long periods of time spent alone is almost £7.2bn a year -
and set to soar as increasing numbers of elderly people are left isolated.
The taxpayer faces a bill of £6,000 on average for each of the
1.2m chronically lonely pensioners
who find themselves going to their GP simply to have someone to talk to or are taken to A&E because health conditions have worsened.
Prescriptions and other health-related costs also add substantially to the financial pressure on the public purse, found research by the London School of Economics.
Yet preliminary findings show that for every £1 invested, £3 could be saved in health costs.
The study was released by the Campaign to End Loneliness yesterday (Thurs) alongside a survey of 2,240 people which revealed 89 per cent believe loneliness in old age is now more likely than ever - rising to 93 per cent of those aged 65-plus.
Three quarters of the pensioners (76 per cent) would find it hard to admit to feeling lonely because they do not want to be a burden while more than half of all ages (56 per cent) say admitting to loneliness is difficult.
This stigma of loneliness is isolating millions of older people and has resulted in a 'loneliness epidemic',
according to the charity, which is driving a public action project to tackle loneliness.
Laura Alcock-Ferguson, executive director of the Campaign to End Loneliness, said: "There is much to do to overcome loneliness. The huge stigma surrounding it is clear, which is slowing down efforts to combat it. This is isolating millions of older people - and with our ageing population, the epidemic of loneliness is growing fast."
"The fact that over three-quarters of older people will not admit to feeling lonely is deeply worrying.
The health impacts of loneliness are devastating
; it is worse for you than obesity and as bad for you as smoking 15 cigarettes a day. Most worrying, however, is the popular view that loneliness in older age is more likely than ever - that loneliness is inevitable."
"But, with two thirds of people wanting to address the loneliness epidemic - and with compelling evidence that it pays to tackle loneliness - we know that we can challenge this. Loneliness is not inevitable. So, we are calling on the public to take action."
More than half (63 per cent) of British adults of all ages have suffered with loneliness at some point in their lives
with a quarter saying they felt isolated for months or more until they took action or someone helped them.
Worryingly, a quarter of those aged 45-plus believe loneliness is an inevitable part of getting older, the survey found.
Deborah Moggach, an ambassador for the charity and author of the best-selling novel The Best Exotic Marigold Hotel, believes by working together it is possible to tackle loneliness.
She said: "Loneliness really is the last taboo. Older age should be seen as a whole new adventure - not an inevitable descent into despair. We have to stop thinking of this as someone else's problem. As a society, we need to recognize loneliness as an issue, and put something in place that enables older generations to flourish - not flounder."
***Watch 'The Loneliness Project' and sign up to the Campaign here:
www.campaigntoendloneliness.org/LonelinessProject