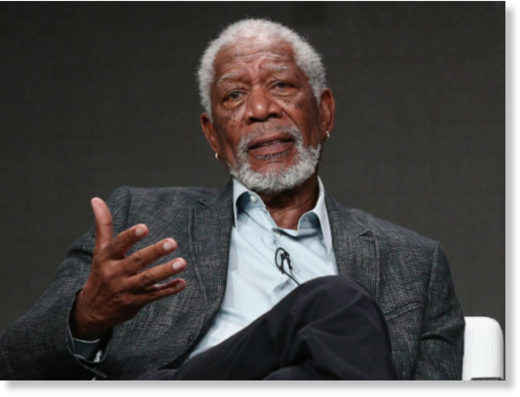 Veteran actor Morgan Freeman appeared in a political video published Monday, in which he demanded President Donald Trump speak directly to the American people about the extent of Russia's meddling in the 2016 presidential election.
While insisting that the Kremlin's election interference is "no movie script," Morgan said, "we need our president to speak directly to us and tell us the truth."

Comment: Trump already did tell the truth. That Morgan Freeman and many others don't accept the answer is the problem. They can't help but continue to hate on Trump (and Russia) and believe the lies told to them by the incredibly propagandistic and deceptive US media.


"We need him to sit behind the desk in the Oval Office and say, 'My fellow Americans. During this past election, we cam under attack by the Russian government," Freeman demands Trump to say, adding, 'I've called on Congress and out intelligence community to use every resource available to conduct a thorough investigation to determine exactly how this happened.'"
The video is part of Hollywood director Rob Reiner and
Atlantic
senior editor David Frum's
new initiative
called the Committee to Investigate Russia.
U.S. intelligence agencies have implicated Russia in a concerted effort to interfere with the 2016 U.S. elections, including the hacking of the Democratic National Committee emails and their dissemination through WikiLeaks throughout the election cycle. It has been
reported
that former President Obama was aware of Russia's election meddling campaign and failed to slow or stop it. Rep. Adam Schiff (D-CA) has openly
criticized Obama
for failing to act against Russia.
Meanwhile, no evidence of so-called collusion by President Trump or his campaign has been proven
. The House and Senate Intelligence committees have launched investigations into the matter. In May, former FBI Robert Mueller was appointed by the Justice Department as special counsel to oversee a separate investigation into Russia.
A "nonprofit, non-partisan" organization, the Committee to Investigate Russia's
advisory board
includes Reiner and
former director of National Intelligence James Clapper
.

Comment: Looks like the Deep State is making more alliances with Hollywood than ever.


In an appearance Tuesday on CNN's
New Day,
Reiner said "I don't know that the public understands the gravity of what the Russians were able to do. They've attacked us."
"They're trying to undermine our democracy. And for some reason we are not understanding the gravity of this," Reiner said. "And I think a big part of that is because the president of the United States is not saying, in the Oval Office, 'my fellow Americans, we've been attacked.'"
Reiner has been one of President Trump's biggest celebrity critics. In June, the
All in the Family
star
called for
an "all out war" to resist Trump.