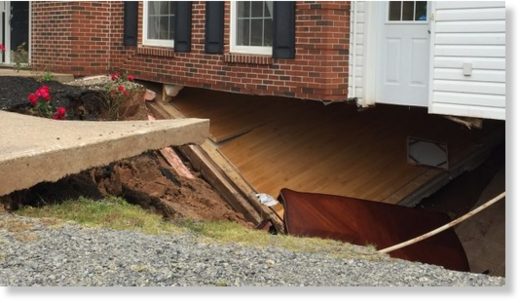 When family members inside a Hants County home woke up early Sunday morning, they feared the racket they heard coming from their basement was created by home invaders.
A call to 911 followed but when officers arrived, they found a catastrophe that wasn't man-made.
A sinkhole had developed under the Mountain View Drive home in Falmouth and the danger was created by Mother Nature.
'Everyone is safe'
Chris Strickey lives at the house with his wife and two daughters who are 13 and 16. He and his 13-year-old daughter weren't home at the time the sinkhole opened.
"I received a phone call at one minute before 4 a.m. from my wife to tell me that literally the house had collapsed," said Strickey.
Prior to learning about the sinkhole, Strickey said his wife and daughter hid in the closet and called 911 because they believed there were burglars in the home. It wasn't until police showed up that it became apparent what happened.
"It's hard to think of all the stuff that we've lost, but so be it. Everyone is safe," said Strickey.
Paul Maynard, deputy fire chief with Hantsport Fire Department, says by the time crews arrived, the house was badly affected.
"The first floor had probably collapsed 20-30 feet into the sinkhole," he said.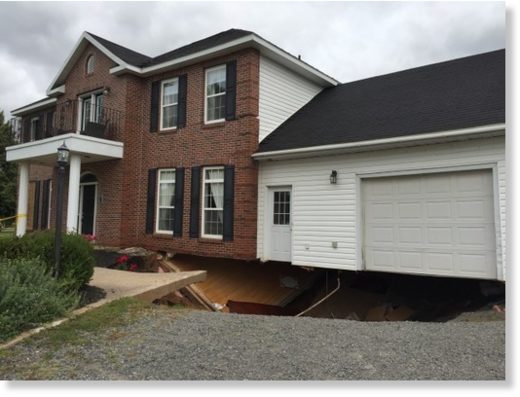 Avoiding environmental damage
The fire department had to move quickly, to make sure an environmental hazard didn't occur.
"We called the power company and made sure the power was disconnected, and the water and sewer lines were disconnected. There was an outside oil tank that was compromised. We had a hazmat team from Annapolis Valley respond to the scene and pump out the oil tank."
Then they had to assess the stability of the home before deciding to send in any crew members.
"We were able to send in a few firefighters and salvage some of their personal belongings — purses, passports that sort of thing — before the structure became too unsafe."
No signs of trouble
Strickey said the house is only about 12 years old.
He said there were no problems or signs prior to the sinkhole that anything was wrong.

"That's one of the remarkable things. It was a lovely wonderful home we loved living in. You wouldn't see any inkling that anything was wrong. There was no crack, there was no bend or break," said Strickey.
Strickey said he's confident his home insurance will cover the damage. He said friends and neighbours have been eager to help out.
"We could probably stay at about 40 different places and counting," said Strickey.
"My wife and I both work at King's-Edgehill School. From the immediate supportive response of the headmaster and the two assistant headmasters to our colleagues and faculty, to our relatives and neighbours, it's been remarkable."​
Rick Porter lives across the street from the house and woke up to the sound of emergency vehicles early Sunday morning.
He said he saw firefighters taking the cars out of the attached garage.
"They cut the back of the house open and drug the vehicle out the back wall of the garage and then put it on a tow truck and then took it away," said Porter.
Collapse concerns
Mountain View Drive was closed to all but local traffic by late Sunday afternoon. Porter said there had been "a steady stream of traffic" since word got out about the sinkhole.
"This morning especially you couldn't get up and down the street because of the traffic. A lot of rubberneckers," said Porter.
Interview with Don Dignan, regional emergency management co-ordinator for Municipality of West Hants & Town of Windsor, on Falmouth sinkhole pic.twitter.com/S1Wgnn5WbI

— @AnjuliCBC
Don Dignan, regional emergency management co-ordinator for the Municipality of West Hants and the Town of Windsor, said there are concerns the whole house could collapse from the sinkhole.
"That is a possibility with the stress that's on the structure," said Dignan. "The matter is under investigation. There's a structural engineer and a geotechnician coming to do a survey of the building and the grounds."
'It's a freak thing'
Hants County is home to gypsum deposits and quarrying has taken place in the region. Both factors can contribute to sinkholes, according to the Nova Scotia Department of Natural Resources website.
"It's a freak thing. It's the first time that I've ever experienced this in the area that involved a structure. They are a little bit unpredictable," Maynard said.
"I've been in the fire service 28 years and that is the first call I've ever been on for a sinkhole and I've never heard of that happening. We've heard of sinkholes in the area but never involving a home or structure."