A man committed suicide after completing the notorious 'Blue Whale Challenge', according to a video he posted on his Facebook page before taking the extreme step - a claim disputed by the police.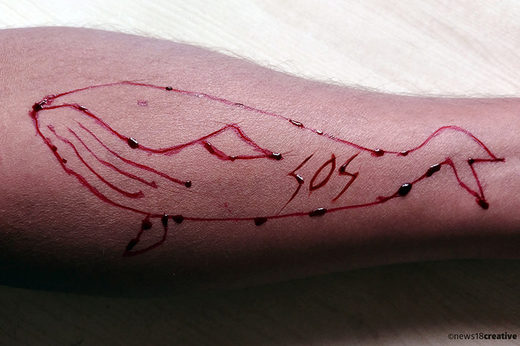 The police said they have found no evidence of Ashok Maluna being part in the online challenge when he killed himself by jumping into a river in Ahmedabad.
They said the 30-year-old took the extreme step as he was depressed due to cancer.
Maluna, a resident of Palanpur in Banaskantha district, went live on Facebook on August 31, apparently just before his suicide, where he is heard saying he is taking his life after reaching the last stage of the Blue Whale Challenge.
"I had downloaded the Blue Whale game and this is the last step, which is why I am committing suicide,"
he is heard saying in the short video.
In the video, Maluna said he is fed up with life and asked his friends to contact his family members and hand them over Rs 46,000 that he was carrying in a bag.
"I am fed up with my life which is why I am making this video. Please convey this to my family members...I don't know how to tell them how much I love them."
He said he even went to Mumbai to commit suicide but could not do so due to heavy rains there.
Maluna jumped into the Sabarmati river on August 31 from the city's Sardar bridge. His body was fished out on Friday from near Paldi, the police said.
Inspector of Riverfront police station J A Bhagora said the police have not yet come across the Blue Whale angle in his death.
"We have not yet found any evidence linking his suicide to Blue Whale game. He had come to Ahmedabad to get treatment for cancer, but committed suicide as he was depressed over his illness.
"The Palanpur police, who spoke to his family members, have also not found any such evidence," he said. The Blue Whale Challenge, which originated in Russia, starts by asking participants via social media to draw a blue whale on a piece of paper.
The participants are then asked to carve the shape of a whale onto their body. They are given other "challenges" or "tasks" such as watching horror movies alone. These challenges or dares feature the commission of acts harming oneself. The last stage is suicide.