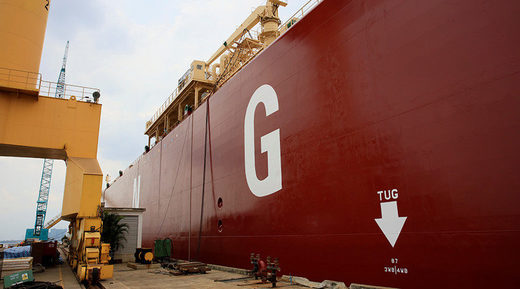 The United States will most likely fail to oust Russia as the main supplier of gas to Europe, according to the Russian envoy to the European Union Vladimir Chizhov.
"And if even Americans supplied liquefied natural gas (LNG) to Europe free of charge, they simply would not have had enough opportunity to replace Russian supplies," Chizhov said in an interview with Sputnik radio.
The envoy suggests three reasons why the US cannot replace Russian gas supplies.
"In the United States there is currently a single export terminal for LNG shipments in Louisiana, they plan to build another half-dozen terminals in different parts of the country, but this will take time," Chizhov said.
"Second, the amount of gas produced in the United States may not be enough for the European market," he added.
The third reason is that Europe does not have enough terminals to receive LNG or tankers for its transportation, said the Russian diplomat.
Over the last year, the US has increased LNG supplies to Europe. However, it now has only six percent of European LNG imports, which doesn't take into account natural gas supplies through pipelines.
Royal Dutch Shell and BP have confirmed Russia would continue to be Europe's top gas supplier at least through 2035.
The Russian share of the European gas market increased to 34 percent last year, according to Gazprom.
Europe also imported 24 percent from Norway, 13 percent came in LNG supplies, and 11 percent from Algeria.
Gazprom boosts natural gas exports to Turkey & Southern Europe
Russian energy major Gazprom has increased exports of natural gas to Turkey by more than 22 percent from January through August, according to a company statement.
Gazprom has also reported extending of shipments across Europe. Exports of natural gas to Serbia were up 40.8 percent and Hungary 22.4 percent. Supplies to Greece rose by 13.2 percent, while shipments to Bulgaria were up 11.1 percent.
Exports by Gazprom to non-CIS (Commonwealth of Independent States) countries have grown 12 percent in the year to August against the same period in 2016. The Russian company has delivered 118.3 billion cubic meters (bcm) of gas, according to the statement.
Last year, the corporation increased gas exports to non-CIS states by 12.5 percent to 179.3 bcm, which was a record.
Supplies to CIS states and the Baltic countries rose 12.9 percent year-on-year. CIS members include Russia, Belarus, Kazakhstan, Armenia, Azerbaijan, Kyrgyzstan, Moldova, Tajikistan, and Uzbekistan.
Gazprom Deputy Chairman Aleksandr Medvedev has said the company expects to sell up to 180 bcm of gas this year.
Gas exports to Ukraine were up by 13.5 percent to 1.389 bcm with all the supplies shipped to the eastern parts of the country.